Spicy & Tasty

Apparently, I didn't get my fill of Sichuan food in China because last weekend I couldn't stop thinking about tracking more down. Little Pepper was my first choice, but it was full at 8:30 on a Saturday. We could've waited but it was a good opportunity to give Spicy & Tasty, just around the corner, a re-visit.
I think some prefer Little Pepper because it's grittier and less English-friendly. Somehow that implies authentic. But still in a fluorescent and formica vein, S&T is hardly upscale. I find the food comparable, if slightly pricier. We scored the only open table for two.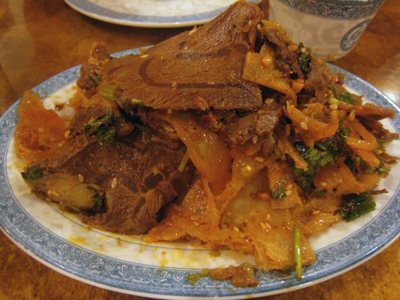 I settled on beef tendons from the long list of cold appetizers. It turned out that they had exhausted their supply, but in a way I lucked out because they topped off the plate with tripe. Double whammy. And to their credit, they did ask first before substituting. I know not all Americans are as tripe-crazed as I am.
Cold dishes are made on demand at a bar in the front of the restaurant. And the balance of chiles and peppercorns is right on. You feel the heat and the numbing tingle, but it's not so overwhelming that you lose flavor. And the fresh crunch of cilantro stems enlivens the thinly sliced meat.
Next time I'll branch out and try fish but I wasn't in the mood for the unknown. I knew that enhanced pork was up my alley and similar to a dish I'd recently eaten in Beijing. Essentially, it's a stir-fry of fresh pork, leeks and chiles. Everything gets a caramely sear; the vegetables turn sweet and play off the chile hotness.
The translations explain little and make it difficult to know what you're going to get. For instance, there's lamb with red chile sauce, lamb with chile pepper and sliced lamb in sliced fresh hot pepper on the menu. I have no freaking idea how any of those differ. In fact, I can't remember which one the above photo is though I suspect it's lamb with chile pepper. The chile used was dried and ground and seemed to only show up in random bites of food. This was wonderfully gamey and oily, but I actually prefer a less saucy lamb like the cumin dusted version at Little Pepper.
I've tried making dry-cooked string beans before but they never quite turn out like this. These taste almost meaty and chopped preserved vegetables scattered throughout was an unexpected touch.
Lord, I can't believe my last visit was four years ago, and almost to the day. Is this what aging feels like? (11/17/07)
Heading through Flushing on the way back from a tough afternoon IKEA shopping on Long Island, I knew it was the perfect time to check out this restaurant I'd been hearing about. Since the car was literally bursting at the seams with enough cheap furniture to add up to $475, James was hesitant to park on the street. A parking garage was requisite or he said we couldn't stop for dinner. That was like a mean dad thing to say, and I wasn't so sure they would have indoor parking nearby. I was nervous. But luck was shining on us because there was a Sheraton on the same block as Spicy & Tasty with a parking garage. And this hotel experience was almost equal to the food.
I love hotels. Or more properly I love being in foreign cities, and as I recently discovered, Asian ones. It's so not "Lost in Translation." I mean mid-range hotels with stores and services in them, travel agents, random clothing stores, and the like. Our last day, a rainy Sunday in Singapore we strolled around the food court in the basement of the Meridian hotel. The food stalls were open, but there were also quiet halls on other levels with glass facades, darkened rooms and closed doors. Boutiques, graphic design firms, the only life being a room filled with teenage boys playing computer video games. It was fun and felt like you shouldn't be there since we weren't hotel guests (though it was all public space). The Sheraton LaGuardia (as it was called, though not all that near the airport) had the same feel, levels and stairs and businesses on the perimeter and a fancy, near deserted Japanese restaurant you look down on from above. It was like a mini-vacation wandering around, and accidental. We were just trying to figure out how to get from the basement garage to the main exit but went too high on the elevator and had to saunter down oddly positioned stairs, accompanied by the strains of soft music.
Spicy & Tasty continued the feel. I've never been to China, but I like to believe it felt very Chinese. Or Sichuan at least, as that is their thing. I wasn't blown away by the peppercorns as I expected to be. Maybe I was thinking Thai heat, not subtle buzzy Sichuan spicy, or maybe the food wasn't heavily spiced. It was certainly good, though. I go nuts for bamboo shoots in chile oil, and they were made all the more attractive by being prepared up front by a cold dish guy. There were all sorts of appetizers, jellyfish, sliced tendon, eggplant and more that I would've liked to try, but you can only eat so much with two people. I had to order the enhanced pork, if not for the name alone. I'm not sure what the enhancement was referring to–there was a copious amount of leek greens in the dish, which could be construed as enhancement (a few days later that green onion hepatitis outbreak began and like a good hypochondriac began wondering if leek greens were also a danger). James got the Szechuan lamb, which was like a rich, almost Indian spiced stew that came in a metal dish over a flame.
I left feeling uncharacteristically upbeat and actually looked forward to walking through the hotel lobby back to the car just for shits and giggles. The odd thing was that the elevator places you right inside the office where you pay and no one was around, but you could hear footsteps and clear-as-a-bell voices from the garage where the cars initially drive in. The place was miked, for what reason I'm not sure, but it was kind of creepy. We were quiet as mice when we got back into the car just to be safe. Of course all they'd hear us saying was how great the food at Spicy & Tasty was. (11/14/03)
Spicy & Tasty * 39-07 Prince St., Flushing, NY