In a twisted way, you might consider rising at 3pm on "Black Friday" as the mark of a fun Thanksgiving. Inevitably, food and drink combined with bad TV results in staying up until daybreak. That's the beauty of Friday off; it's kind of luxurious to squander it doing absolutely nothing except eating leftovers and lazing about. It's certainly not any more grotesque than lining up at 4am to buy crap no one needs.
Last year I forwent a whole bird and created a Middle Eastern inspired menu. This year I went traditional and straightforward. I didn't mean for nearly all of my recipes to come from Epicurious, it just happened. Is that tacky like decorating your house with too many things from the same store? Er, I guess that's me—over-reliant on Ikea—too.
The gathering was small enough, five including myself, to not feel pressured, and mellow enough to watch the first two episodes of Project Runway while eating (who knew that Sara Jessica Parker could induce bawling in grown men?). At some point Kid Nation was pulled from the DVR. Dawn of the Dead turned out to be a 4am mistake because I ended up having to watch Three's Company afterwards to counteract the scariness. I'm not thankful for zombies. And while I'm at it, I'm not thankful for Style's new unsexy, Hot Guys Who Cook, either.
Unfortunately, most of my photos are crooked and out of focus. It's possible that this was a direct result of too much zinfandel, 1621 cocktails (I actually had Applejack and blood orange bitters on hand, which influenced this drink choice) and hippied-out mac and cheese brought by a friend (that's not really my kind of baking).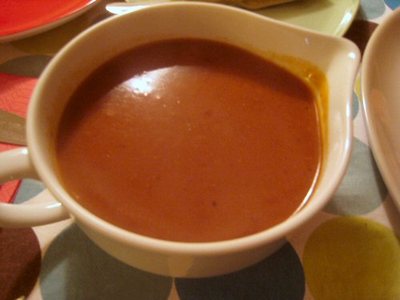 with Bourbon Gravy
It may seem that I went a little wild with miso, using it in two dishes, but it's subtle and just creates a vague salty, savory flavor. Trying to get compound butter between a turkey's skin and flesh is a fussy pain in the ass that I won't likely repeat. Gravy is also kind of a pain. It turned out that I didn't have any whisky around so I resorted to Applejack, which I'd used to good effect in Thanksgiving gravy a few years ago.
I usually go meat-less with the sides to accommodate a range of tastes. I'd forgotten that I'd thrown out a box of prunes last month, so I had to increase the dried cranberries and apricots. It all worked out. This was a drier-style stuffing; I kind of like mine wet and mushy which might transpire after sitting in the fridge overnight.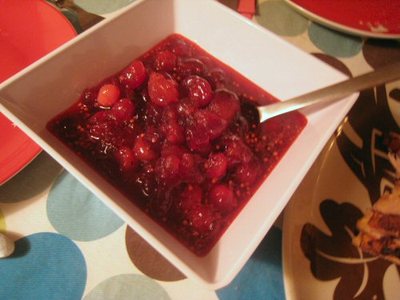 Sweet Pickled-Cranberry Compote
The stuffing was sweet so I wanted the cranberries and sweet potatoes to avoid candied flavors. Tart and pickled was a good antidote to sugary and jellied.

Roasted Sweet Potatoes with Scallion Butter
Well, I didn't seek out Japanese tubers like the recipe called for, and I didn't serve them individually. To save time, I roasted them and mashed them with the miso-scallion butter and warmed in a dish. It was just as well.

Brussels Sprouts with Chestnuts
I love chestnuts in vegetables and the addition of heavy cream amps up the richness even further. Honestly, I'm not sure what the difference is between the $10+ jars of roasted chestnuts in specialty stores and the ones you get in foil packs emblazoned with anthropomorphic logos at Chinese stores for a fraction of the price. I like to stock up at Hong Kong Supermarket and doubt that I would be blown away by the European imports. But I've been wrong many times before.

Pecan and Salt Caramel Cheesecake
You probably already know that salt and caramel are amazing together. Caramel, pecans and cake made with four blocks of cream cheese would've been sufficiently decadent, but the sprinkling of crunchy sea salt added interest to the sweetness.