Pamplona

Sadly, I knew this day would eventually come. (10/23/09)
I don't take on restaurants as causes and I rarely visit places more than once, even in my own neighborhood (er, maybe especially in my own neighborhood). As it is, there are a gazillion worthy restaurants that I'll never get around to. But for some inexplicable reason I took a shining to Ureña. I guess it's the appeal of the underdog; it wanted to be something it couldn't.
So, I was a little bummed to hear of the inevitable closing. But I was also curious how Pamplona might mix things up and finally had the chance to pay a visit after a semi-nearby wine class. You'd think after tasting eighteen wines (in addition to a full glass of pinot noir at lunch) my judgment might be impaired, and maybe it was. However, I'd like to believe that the two albariños with dinner only heightened my senses.
I'd been to Ureña twice, and still, I couldn't tell you what's changed with the décor, though a cartoony painting of a pig with acorns definitely is an addition. The palette and furniture seemed muted and neutral before and still seems so. I hesitate to say that they lack patronage because our dining like freaks at 6pm on a Saturday didn't exactly help us observe the reincarnation under ideal circumstances.
We were originally told by the hostess that we could only sit at the bar or the new tables set up in the bar area since we didn't have reservations. I acquiesce, rarely pipe up, but the dining room was completely empty and thankfully another staff member said we were welcome to sit at a table as long as we finished by 8pm. Not a problem, and the gesture was appreciated.
I decided to try a few things from different sections of the now abbreviated menu. Gone are $30+ entrees, the tasting menu and anything foamy. I was interested in the $10 pulpo braseado a la rioja, essentially wine-braised octopus. I can't find this dish listed anywhere in the iteration I had. Others mention sausage and smoked lima beans, but this rendition consisted of a purple tangle of octopus legs atop swirls of cream-colored horseradish sauce flanked by disks that resembled carrots but made themselves known as potatoes once bitten into. I don't know what the wispy sprouts were.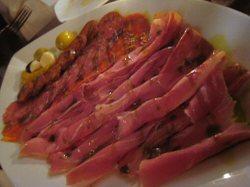 It was too tough to decide which cured meats to sample, so we went the whole $19 and had a plate of Serrano ham, chorizo and two others that are slipping my mind. I'm not afraid of bread, and I always like to have plenty on hand when eating straight up meats or cheeses. Same with oily, saucy dishes like the octopus. Our original serving was replenished. I only mention this because the couple who later sat next to us rejected a second batch of bread, which made me ponder our gluttony. It's not 2004, carbs are ok again, right?
I would've chosen a couple more small dishes instead of the paella if it had been totally up to me. But I'm frequently wrong. The paella, made with bomba rice, was spot on (not that I've eaten my way across Valencia, but I have sampled a few versions in Spain). I don't tend to get excited over non-Asian dishes centering on rice (what's the big deal with risotto? And chicken soup with rice is foul), paella included. It either tends to be mushy or dull. This saffron-enhanced beauty dotted with mussels, squid and generous hunks of rabbit, was neither. All the grains stayed separate without being chalky or dry.
I make mention of prices (a practice that always feels too servicey for my purposes) only to illustrate part of the Pamplona re-vamp. Emphasis is on smaller dishes, tapas and sharing. The $30 paella was one of the priciest items but wasn't unreasonable split between two diners.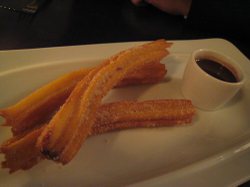 Sheesh, I almost forgot dessert. Churros with Valrhona chocolate were light and only barely sweetened. I can't say that they were the most exciting thing in the world.
It's hard to predict if the new formula will catch on with diners who go for the flash of Boqueria, Mercat or Suba. Not that Pamplona necessarily needs to capture that audience to succeed; there's plenty of room for creative Spanish food in the city.
Pamplona * 37 E. 28th St., New York