Cheeseburger in Paradise

In preparation for my upcoming foray into South Florida I thought I'd do some research. You know, like what to the locals eat? So, I did the only logical thing and headed out to U.S. Route 1 in New Jersey, where all the finest chains are represented, and tried the brand new Cheeseburger in Paradise.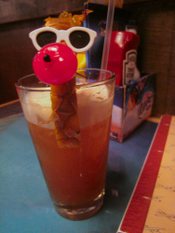 Apparently, in Key West they put mini sunglasses on their cocktail garnishes, eat glorified patty melts oozing Velveeta and enjoy acoustic Journey covers. All in all, pretty awesome. I'm set.
To be honest, I don't understand the Jimmy Buffet connection to Key West (and I'm not about to look it up) let alone why anyone would name a restaurant Cheeseburger in Paradise. But there's a lot that I don't understand.
On an early Sunday evening, the bright pastel hued, surf shack-esque room was almost to capacity with families and large parties (I couldn't stop staring at a motley group wearing purple polos with a logo I couldn't make out. I was most mesmerized by a fortysomething female's modern take on the rat tail. Her short, choppy gray hair was flanked by multiple tiny braid tails flowing half-way down her back. I started taking a photo, then stopped myself because who I am to judge someone's hairy freak flag?) though in an un-chainlike manner there was no wait for a table.
I wasn't sure what Cuban crustinis were but figured I should find out. Ok, they're just mini toast rounds. Lime and cheese seem creepier than the seafood and cheese taboo, and this appetizer had it all. I've never been bothered by dairy and fish together, and really the crab, lime juice, spinach and melted asiago were inoffensive.
My burger? Not so sure. You get what's coming to you if you order anything containing Velveeta and mayo, but I was curious about this Pressed Burger because it had a palm tree icon next to it indicating that it was an "island favorite." Like I previously stated, it's really a patty melt because it's not on a bun. I was sort of imagining a panini burger, whatever that might be. This was more truck stop than trattoria and didn't conjure the Florida Keys either.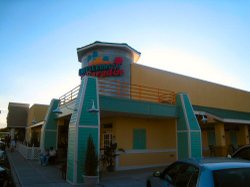 The food was almost secondary because it was hard not to fixate on the entertainment, a middle aged guy (I actually couldn't see him from where I was seated, but if he was under forty, I'll buy you a plate of chocolate nachos) with an acoustic guitar, who managed to make every song murky, maudlin and sound like Time in a Bottle. Eventually, I could make out "Dust in the Wind," "Landslide" and "Who's Crying Now?" (the latter pumped into the bathroom stalls at five times the normal volume, which made me laugh out loud and no one could even hear). And it only got better when they put on piped music and Rupert Holmes's classic, "Escape (The Pina Colada Song)" caressed my ears. It really perked up my pressed burger too, but everything feels smoother after a rum punch and margarita. And I now have a new ringtone idea for when I tire of "Popcorn."
Cheeseburger in Paradise * 625 S.  U.S. Rt. 1, Iselin, NJ