Rayuela

1/2 Cocktails might just be the star at Rayuela-at least that's what the few reviews I've seen so far say–and I can see why. I tried three drinks and was most swayed by the simply named sherry, and not just because of the pyrotechnic flaming orange zest. The gesture wasn't all flourish; a distinct bitter citrus flavor permeated the cherry heering, pomegranate syrup, brandy and Palo Cortado sherry. I would never think to combine those components (nor the ginger ale, Mountain Dew and Sprite in their sangria—that's a lot of soda).
I guess pan-Latin and Nuevo Latino are over. Rayuela is mixing those 90s concepts with modern Spanish flair and calling it Estilo Libre Latino, a.k.a. Latin Freestyle. (Alex Ureña also leans this direction, though his food is more creative than trendy.) And for the most part, it works.
I rarely attend press dinners, not out of any ethical obligation, I just don't get invited to many. It is kind of hard to be fair, even in a casual blog, when plied with a good portion of the menu and warmly treated by all levels of staff. So, of course I had a nice time.
I'd be curious to see how the bite size hor'dourves I sampled translate to their proper portioned salads and appetizers. The plantain encrusted oysters with poblano aioli and served on the half shell was hard to manage without cutlery. But the bolo de mofongo atop pork vaca frita was kind of genius. Tackling a full size mofongo will put you in a carb coma, but when miniaturized you get lots of crisp and softness, not just bite after bite of porky mash.
Of the three ceviches: tiradito de scallop, lobster revolution (the name made me guffaw a bit) and tuna in watermelon, you'd think the lobster would stand out (at least to me—I'm swayed by descriptions like ginger, sage, lemon leaf, and lemongrass infused coconut water and Uruguayan caviar, even though I have no idea what that type of roe might be like or why the coconut water needs so much infusing) but the general consensus was that seemingly odd matching of scallop with kiwi was the best of the three. The sweet-salty balance and texture (the lobster was a little mushy) was just right. What I thought were bacon bits on top turned out to be crispy Serrano.
It seemed that the churrasco con cangrejo (grilled beef tenderloin, oven roasted Peruvian potatoes, wild mushrooms, bone marrow, crabmeat chimichurri and Tetilla fondue) was the crowd favorite. Unless you're a vegetarian it's hard not like a medium-rare steak. But I was more excited about the other entrée, pato con arepa (breast of duck marinated in sugar cane, confit of duck leg, spinach , quail egg and pan seared foie gras on a yellow corn arepa) because I love, love sweet and meat, and this preparation was borderline candied. I would've chosen it if given the full menu. Not seeing prices, I pegged this dish at $28. I'll admit that the actual price of $30 is on the high range of what I would normally pay. For me, that's more of an occasional dinner, not a mid-week meal. But how often do you get to eat arepas with foie gras?
Desserts came in two waves: regular and boozy. Despite the interesting hyper-basil and lemongrass ice creams, the standards were nothing to yell about (obviously, since all I can remember are the tiny scoops of accompanying ice creams and not the chocolate and coconut cakes they were meant to compliment). The tequila-chocolate injected strawberry was a hit. The simple pisco gelee was refreshing. I would've liked more avocado flavor from the shot. It was appropriately pale green but if no one told you it was avocado, you'd never guess.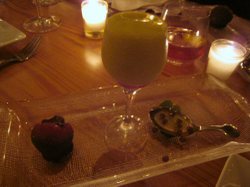 The strength of these fun alcohol-fueled sweets, smart cocktail list, creative appetizers and pricy entrees tend to point towards a lounge-driven clientele. And the modern design centering around show-stopping live trees sprouting through the bilevel room is built for that scene. I just hope that the cuisine doesn't get overshadowed because it feels like a lot of thought went into it. The half-breed Latina in me wishes culinary success for Dominicans (chef Maximo Tejada and pastry chef Bruni Bueno) and Mexicans (mixologist Junior Merino) because lord knows we have enough dishwashers and prep cooks.