Five Guys & Bonefish Grill

3/4 It was an unexpected New Jersey chain restaurant bonanza this weekend. My original intent was to simply head over to Edison and hit all my favorite box stores but food always figures into an afternoon to evening excursion somehow.
But first it was Costco because they close at 6pm, too early for people who can't get up and out of the apartment until after 2pm. I don't know how it happens, but grabbing things like Larabars, spare ribs, seltzer water, chicken thighs, garbage bags, frozen shrimp and scallops, honey wheat pretzel rods, Laughing Cow cheese, and apparently more, eventually lead to a $300+ bill. Costco is dangerous. We spent considerably less than that at Trader Joe's and that included seven bottles of wine, and not all Charles Shaw, mind you.
Even though I loathe gardening, we also stopped at Home Depot for flowers that James can plant in the front communal patch of concrete and dirt that he's possessive of since we live on the first two floors. I'm not even sure that he enjoys the pastime or if it's just a bizarre territorial thing. At least it's prettier than marking with spays of urine.
I rarely check out Wal-Mart, not out of any moral superiority, they're just not on my mind. But the Linden location just past the Home Depot and a small airport was surrounded by all the lowbrow greatest hits: Lucille Roberts, Fashion Bug, Dress Barn, Radio Shack, Dollar Tree, Sears Essentials and International Food Warehouse. All that was missing was a Petland or Rainbow.
Wal-Mart did provide me with my favorite, non-fancy but hard to find Hanes underwear, teeth whitening gel, mini coffee grinder, AAA batteries and a $10.46 purple knit belted tunic (I love that the sizes are so skewed that I can technically wear a L instead of an XL).
Apparently, a Five Guys just opened semi-reasonable walking distance to me in Brooklyn Heights, but as is my way I turned my back on local offerings for a 33-mile drive to Edison, NJ. New York City, Brooklyn in particular, does horrible things to chains. I actually dread the Ikea and Trader Joe's (I'm not even counting the Whole Foods because it's not in my realm) that are eventually coming because they'll inevitably be mobbed and under stocked. It doesn't seem right to have these national treasures in your own zip code and be forced to leave the state for sanity's sake.
I'm not an Americana food fanatic, i.e. pizza, hot dogs, burgers. I like two of the three very much (sorry, wieners) but I don't go around the city taste testing or taking fastidious notes even though I admire others' efforts. I can't expound upon the burger-ness of a burger but I was curious what all the Five Guys fuss was about. And I was pleased that the restaurant was located in a familiar strip mall, Wick Plaza, that also contains my bank, North Fork, Sally Beauty (Miss Clairol in sable tends to be out in NYC because I guess everyone has dark brown hair. Plus, I'd forgotten to bring any lip gloss on our journey and I only had to spend 99-cents on their house brand to remedy this) and Hometown Buffet.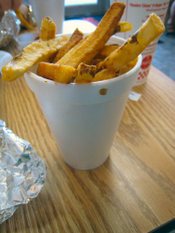 The menu is short and sweet and the french fries are freshly made so I can see the comparisons to In-N-Out. But the burgers aren't really the same. If anything, I'd say they look and taste homemade, assuming you had good cooks for parents. There's nothing uniform and assembly line about them. And a great deal of their taste has to do with your choice of topping.
This caught me off guard. Even though there was no line because it was suburban New Jersey, I got flustered with their fifteen choices and only asked for mustard, ketchup and fried onions. Basic lettuce and tomatoes eluded me. Another thing to keep in mind is the difference between burger and little burger. I found out that the standard burger contains two patties, which was only worrisome because I was saving some appetite for another chain later.
Though I prefer medium rare, I wasn't insulted by their well done only policy. I was more put off by the signage about neighborhood children and allergies and not allowing peanuts off the premises. One of their trademarks is boxes of shell-on peanuts to scoop and eat while waiting. I can't imagine that introducing peanuts into the wilds of New Jersey could possibly have the effects of sneaking ecologically unsound flora and fauna of foreign environments.
I was most impressed with the quantity of fries doled out (and that they offer malt vinegar and Mr. Pibb). Even though we dined in, they bagged everything up and not only filled our cups but threw in a full extra cup into the paper bag. As a scrounge, I actually brought all the extras home to warm up later. Thankfully, health got the better of me the next day and I forced myself to toss them.
I was fine with Five Guys, but James impressed me by thinking of Bonefish Grill and tracking down the nearest location in East Brunswick. Last year when I was doing competitive research on major restaurant chains for work, I discovered that Bonefish is the one to watch. A supposed upperscale and healthier alternative to Red Lobster that was spreading like wildfire, just not in NYC. In an effort to get our fingers on the pulse of America, we needed to get our asses to Bonefish pronto.
This location in a mall parking lot was fused with a Carrabba's (another OSI property—same company as Outback Steakhouse) and being 9:30 the usual insufferable lines were more like trickles.  Oh, this was a classy joint alright. Sure, you get the standard beeper but they have a neutral toned, wicker and ceiling fanned outdoor lounge to wait in. It felt like a tasteful Florida beach resort. A waiter comes around to take drink orders and push pomegranate martinis on everyone. I always assume drinks are going to be around $10 and get pleasantly shocked by gentle suburban prices where glasses of wine can be had for $4 and even over the top cocktails are only $6.90.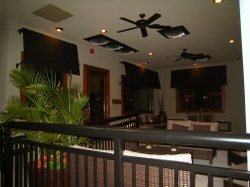 The dusky, warm evening was made perfect when New Order's "Thieves Like Us" began playing. As a teenager, I couldn't imagine first hearing this song in Pretty in Pink and seeing myself twenty-one years later being serenaded by it in a New Jersey mall parking lot. Glancing across the potted foliage at the looming glow of a Kohl's, it felt like twisted paradise. Everything was so wonderfully incongruous that I started getting chills. Or maybe that was just the sun going down.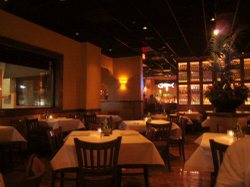 But the spell was broken before we could get a drink; our table was ready. It all went haywire upon entering. Nothing was coordinated with usual chain-like precision. The drinks we eventually ordered didn't come for over fifteen minutes, our water and bread didn't show up for a solid half hour. They'd run out of clean glasses. Our order wasn't getting taken. I don't get mad about these things because I don't expect French Laundry, but for people who view this as a serious night out–some were celebrating birthdays–get very antsy and indignant. Multiple tables were complaining. All I could think about was this mystery diner side job I almost took a few years ago. Every little misstep gets critiqued and reported. It wasn't until I overheard an apologetic waitress explaining to a group that this was the first Saturday they'd been open that it all made sense. Wow, we'd hit up the hottest new restaurant in East Brunswick on opening weekend.
We got a strangely stoic young waitress who wouldn't make eye contact yet still engaged in classic overexplaning and attempts at being perky. While pouring olive oil in a dish speckled with pepper and spices, "I call it EVOO but not everyone knows who Rachel Ray is so they don't get it. " Oh, I get it all right.
"Do you have any questions about our menu?" No. Grilled seafood comes with a choice of four sauces: lemon butter, Mediterranean, mango salsa and pan-Asian. I felt guilty not engaging her, then capitulated and allowed her to expound upon the Mediterranean sauce being full of omega-3s. I was just going to go for the less than healthy lemon butter anyway.
We were surprised at the hotness of one of our crab cake sauces, adorably swirled into hearts. So, we remarked on it, attempting to be friendly chatty diners:
James: That was spicy
Waitress: fumbling for a second…it's Sriracha
Me: Oh, rooster sauce
Waitress: Yeah, there's worcestershire in it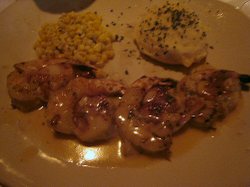 Wha? No matter, I'd be a wretched waitress so it's not for me to mock. After discovering they'd only been open five days, I let everything slide. The food was actually done well, my grilled shrimp and scallops were lightly charred and tender. The portions were absolutely sane and nothing was dripping cheese a la Red Lobster. The vegetable of the day was sweet and crisp fresh corn dotted with bacon. I had textbook garlic mashed potatoes as a side. Even my inexpensive Riesling seemed just right with the sweetness of my seafood and corn (or maybe it was because of multiple glasses of Riesling that I felt so soothed). I didn't see a dessert list because we weren't offered one (not pushing more food is a chain faux pas) though I did notice bananas foster on a specials menu.
Bonefish Grill is one of those concepts that might not fare well in New York City–it's not as if we're lacking for quality independent seafood options. But the gap between Le Bernadin and Long John Silver's is vast so there's probably room for this manufactured sophistication somewhere in the five boroughs. Me, I wouldn't bother unless I could enjoy a key lime martini in a parking lot lounge.
Five Guys * 561 Rt. 1, Edison, NJ