The New York Post has it all over the New York Times for sundry superficial reasons, one of them being their spookily democratic wedding coverage. Finally, there's a place for the girthy, college-free and the non-white to express their love.
I'm afraid the Castillo-Boneta profile won't be up much longer, so here's the passage that matters:
"Boneta, now a New York City police officer, proposed on Easter Sunday in 2005, but it took a little coaxing to have Castillo find something even sweeter than chocolate in her Easter basket. 'I was totally exhausted that morning, but after he and my mom nudged me a little bit, I opened it up and found the ring,' Castillo remembers."
I have no visual on said romantic Easter basket so I'll just have to imagine the beauty.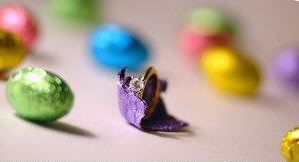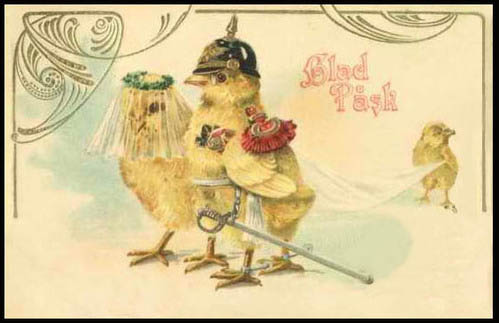 As a nostalgic obsessive aside, I recently couldn't help but Google my early-teen first stalkee/near date raper who tormented me all of 8th grade and freshman year with his grotesque hotness and put me off of straight guys for years. The very first hit was a five-and-a-half-year-old New York Times wedding announcement. I hazard to guess that he's one of the very few, possibly only Gresham, Oregon natives to make the column (ah, there is one other possible candidate from 1997). I just wanted to see a grownup photo, that's all. Um, he does appear to be living on the Upper West Side so I guess if I was dangerously curious I could always stake out the building.
"Creepy Easter" photo borrowed from The Seven Deadly Sinners