Lotus of Siam

I was kind of nervous to try Lotus of Siam because it would really suck if my favorite American Thai food turned out to be on the other side of the country. LOS (my brain keeps wanting to transpose the acronym into SOL, so I'll spell it out from here on) seems to inspire the same fanaticism as Woodside's Sripraphai. In my mind there's a battle between these iconic right coast/left coast arbiters of authenticity (dueling mythical giants that are less Godzilla/Mothra and maybe more like one of these scary indigestion-wracked Pepto-Bismol behemoths. Diarrhea's become so mainstream lately). I'm not sure if it's a case of loving what you know, but after two Lotus of Siam meals I'm still a Sripraphai advocate.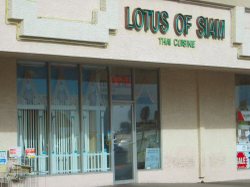 The two restaurants have different styles so it's not accurate to compare them directly (even though I will). Lotus of Siam excels with Issan style dishes, which are more sour and hot and less reliant on coconut milk. Salads, larbs, whole fish, grilled items are popular and raw herbs and prevalent. I think my own palate swings more towards the sweet and hot ends of the spectrum, so sour, bitter flavors don't grab me as hard. Bangkok, and Central Thai food is said to be sweeter and I think Sripraphai leans that direction, which could be why I favor them.
Lotus of Siam has all of the makings of a cult hit. Offbeat locale: West Coast yet neither Los Angeles nor San Francisco; Hidden in plain sight: a non-street facing rundown strip mall and Substance over style:  dowdy décor that favors country kitchen flair over cliché Asian garishness.
My original plan was to stop by for lunch on our way to the hotel from the airport and then return the following evening for a proper dinner, done the way you're supposed to with wine (definitely a distinction from Sripraphai) and recommendations from the staff. But we got waylaid by Joël Robuchon and instead ended up doing another lunch on our way out of town, back to the airport.
If you go at lunchtime, you'll do best by avoiding what 90% of the diners are doing and forgo the buffet. I know, I know, it's Vegas, but this is definitely a quality over quantity moment (I'm not sure what the buffet cost but I could see the appeal since a la carte was considerably pricier. Many items were $3+ more than their Sripraphai counterparts). I never actually got up and scrutinized the steam tables but it looked like everyone had plates filled with beige and brown items: spring rolls, fried rice and noodles, a kind of generic greatest hits. Instead, ask for a menu.
Friday, I went partly on internet research and partly on what sounded different from what I could already get in NYC. Monday, we did more comparison eating. They ask how spicy you'd like things on a scale of one to ten. James and I both thought that eight sounded reasonable and it was really right on. Definitely hot, searing in a few mouthfuls, but not painfully so. (I really don't know who these people are on the internets talking about a four making them cry. Perhaps my taste buds have been irreparably cigarette damaged?)
But Monday, we asked for an eight again and what we were served was a five at best. The overall effect was completely different. The catfish salad was practically as tame as something you'd get in a Cobble Hill, lychee martini DJ joint. It's a good thing we went twice because if we'd only had our second meal to make an assessment. it would've been a poor impression. I still can't help but think that there was dinner brilliance that we didn't tap into.
First up are items from visit one:
I had to try the sour sausage because it seemed like their answer to Sri's crispy watercress salad. An unusually textured, mixed-up dish that doesn't seem to show up at other restaurants. The chile-dusted rice krispies were almost avant-garde. I imagined browned slices of grilled sausage like this, but it was more like chopped ham. Tangy and crunchy, this was a good snack.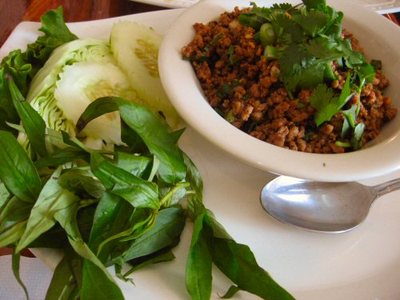 Northern Larb
I didn't try their standard larb but the northern style is described as "completely different from the Issan larb in taste, this northern style larb (ground pork) is cooked with Northern Thai spices and no lime juice" This was very spicy and pungent with the addition of the herb on the side. I like larbs but in some ways, they almost feel too healthy. They're a good counterbalance for oilier, creamier dishes. James was convinced there was five-spice powder in this, which I refused to believe but I got what he was saying, there was something strangely Chinese-y about the flavor. Maybe ginger? What were those mystery "Northern Thai spices," anyway?
You (well, I) rarely see rau ram in NYC (I needed "laksa leaf," as it's also called, for Malaysian cooking and came up empty handed, though I've seen it once or twice at Hong Kong Supermarket in NJ. I checked to see if they had in Vegas's Chinatown [yes, there's a Chinatown] and they did) so I was surprised that to see it on our plate. Rau ram is the Vietnamese term for it, though. I think our waiter called it phak phai.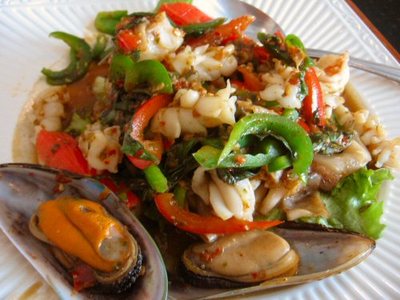 Drunken Noodles Seafood
As you can see in the photo, there's more stuff than noodle. Stuff is good but the noodles got kind of matted into a wad buried beneath the shrimp, squid, mussels and fake crab. Surimi, or whatever you want to call it, doesn't bother me but I could see it putting more discerning folks off. I think I actually prefer simpler drunken noodles, though there was no complaining about toning down the heat. These were pleasingly tongue-scorching.
Visit number two:

Koong Sarong (prawn in a blanket)
These seemed bizarrely un-Thai to me but wonderful in a rumaki, crab Rangoon way. Retro, yet so now. It's a bacon wrapped prawn deep-fried in a wonton skin and served with sweet and sour sauce. There was no way to justify splitting six of these between the two of us for breakfast but we couldn't bear to leave any behind. Actually, we did try leaving one on the plate but our waiter pointed it out to us and we were forced to gorge.
Crispy pork with basil and chiles is one of my most favorite, decadent treats. I can't go to Sripraphai and not order it. If it's on any Thai menu, it can't be ignored. I think you're probably just supposed to eat a few pieces but it's totally a main dish in my world. Lotus of Siam's version was pretty darn good (how can fried pork belly be bad?) but the meat was fattier and crispier like lechon or chicharon and saucier than Sri's. What I love about Sri's is the sweet component. I've made a similar version using David Thompson's Thai Food that calls for palm sugar and star anise. This version was irresistible but more straightforward.

Crispy Catfish Pieces Salad
I love the contrast of fresh, cool herbs and aromatics combined with crispy, warm and nutty and moistened with a perfect blend of lime, fish sauce, chiles and sugar. We call the sauce that ends up pooling at the bottom of the plate, "goop." Sripraphai makes the best goop ever, we try to get every last bit at the end when all that's left is cilantro bits and stray red onion slivers. This papaya salad, while flavorful, not only lacked sufficient goop, it was nearly bereft of heat altogether. It was all lime and not much else, and most definitely not an eight. And perhaps my own aversion, the julienned slices of raw ginger were kind of startling. But I'm one for going easy on the biting additions like krachai, galangal and ginger.
Wow, a lot of that sounds persnickety and negative when that wasn't my overall impression. Taken on its own, Lotus of Siam serves very solid food, and I'm guessing top notch for the area. I lived in Portland for the first quarter of my life and never tasted Thai food like this. I don't think the typical American has. So, it's unquestionably a stand out. I just don't understand why Thai food in the U.S. can't be like this by default.
Lotus of Siam * 953 E. Sahara Ave., Las Vegas, NV