Sahara

I never thought I'd attend a party walking distance to Sahara but that's the benefit of a boyfriend who works with numerous non-American-born folks. Hipsters, god bless them, don't live in Gravesend. (While it's fun to try Ukrainian food—cabbage turnovers, caviar crepes and imported smoked ham—it's not so fun to play board games with Eastern Europeans. It reminded me of how no one would let me and my sister play on the same Pictionary team because we thought too much alike. At this beer tasting party, they had some random game called Apples to Apples, which is totally subjective, hence, hard to play with foreigners. People didn't know what the Challenger explosion was but agreed on nonsensical things like a Hiroshima being Spicy. They also all knew about some game called Puerto Rico, which sounds made up to me, but then, my mom had been going on about a game called Mexican Train which I thought was bullshit and it turned out to be real.)
I would have no idea what Sahara even was if it weren't for the giant billboard ad that used to be stationed a block from my apartment. It's not a destination restaurant, the service is nearly non-existent (though I do like the water pitcher on every table—I'd rather help myself than be at the mercy of fickle waiters) but the food is fairly good. I would get take out from the bustling front counter all the time if it were in my neighborhood.
Wedged amongst the middle-aged Jewish families, large Arabic parties, petite tracksuited women with abnormally large breasts, and young Brooklyn girls (we were sandwiched by two groups of them who kept shooting the other table dirty looks) who share salads and dips and shun the bread, I felt conspicuous snapping photos. Please excuse the blur.
On this visit, we kept it simple with a shared fried eggplant dish from the cold side of the appetizer list. One of Sahara's selling points is their freshly baked Turkish bread that I think is called pide (sounds like pita, but is nothing like the thin pockets most people are familiar with). I also had the adana kebab (it's really hard for me to not say Adama. Wow, I just made a totally unnecessary Battlestar Galactica reference, which is why this is called Project Me rather than Very Informative Restaurant Critiques) which is lightly spiced ground lamb that's been formed around skewers like logs, then grilled. Most entrees come with rice, herby onions and a char grilled tomato and surprisingly hot long green pepper. Everyone seems to order the feta-laced salad. We didn't but will likely give in on our next Sahara excursion.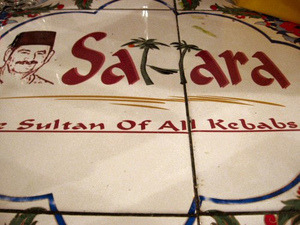 I love how the "Sultan of all Kebabs" has his fez-topped mug plastered everywhere including the tiles on every tabletop.

The giant, glowing meat sundae (see 1/16/05 entry for explanation) beckons all who pass by
The next evening I caught Head-On on cable, a film about two suicidal Turks living in Germany. (On the edible angle, they do mention kebabs and raki.)  I had wanted to see this when it came out a couple years ago but it had a limited run and last year when I remembered it at Blockbuster, someone had already rented it. Despite all the foulness and initially unlikable characters, it's really about love, sad love. I saw two movies Saturday where a mismatched couple vows to meet and run away together and one member chickens out. That's always bothered me. But then, I guess these films wouldn't be alluringly tragic if people found happiness running off on buses and trains for something unknown and potentially better.
So, DVR Head-On, grab some kebabs to go, invite Ukrainians over for board games and beer drinking and see what shapes up. (11/20/06)
The lure of the meat sundae was strong, but not in an urgent way, its been simmering around the back of my mind for a year or so. I was first made aware of Saharas existence via a garish, poorly placed tarp/billboard visible from the eastbound BQE. What initially struck me about it was how the focal point seemed to be a large ice cream sundae, which upon closer inspection turned out to be a lamb encased gyro spit. I loved spotting the meat sundae on outer borough jaunts. The other peculiar thing about the ad was how it was so poorly targeted. It touts a restaurant on Coney Island Ave., nowhere near the Carroll Gardens building it is tethered to, and only visible if youre driving the opposite direction from the ideal route to Sahara (west on the BQE to Prospect Expressway).
It's plain wrongness and crazy graphics always intrigued me. When James found and was considering an apartment on 4th Pl. and Henry St., a block up the street from this marketing icon, I was like "this is totally a sign (ha, no pun intended) you were meant to have this apartment." And now its ours for the time being.
But it wasn't until they recently replaced the banner with a horrible plastic surgery ad that I realized how much I missed Saharas printed nearness, and how absolutely necessary it was that we go find this place. My excitement was furthered even more after discovering the meat sundaes prominence on their website (its the click home button in all its spinning animated gif glory) and on the restaurants faade.
Sahara was totally hopping, doing brisk take out business up front and in its many dining rooms (unfortunately the 20 degree weather didnt allow for garden seating). With dated diner-ish dcor and Ottoman flourishes, lots of Sahara branding on plates, tabletops and water pitchers, the vibe
was Juniors for the Turkish set. The fez-topped guy who must be the owner has his mustachioed illustration plastered all over the place. He is the "sultan of all kebabs," after all.
The service is barely even serviceable, but the food is pretty darn good. We went basic, ordering lamb kebab and chicken kebab entrees which came with rice, pickled cabbage, and grilled tomato, chili and onions. Rather than Middle Eastern pita, we were treated to a round of soft, freshly baked bread. Appetizers were difficult to choose, so we opted for a small mixed plate, which had more variety than I couldve hoped for and large enough portions for three to four diners. Among the many savory blobs were baba ghanoush, hummus, a tomato-y eggplant dip, an herby eggplant spread (lots of eggplant), potato salad, a yogurt walnut concoction–oh, thats lebne, tabule (I'm using their spellings) and a few more. I'd actually rather eat copious amounts of garlicky, oily dips and chewy bread than grilled meat cubes, not that there was anything lacking in their kebab preparations.
It was a fun Sunday late afternoon jaunt during a three-day weekend. Meandering through lesser traveled neighborhoods is always enlightening. Parts of Midwood/Gravesend (Sahara's borderline) feel like where Law & Order detectives might come to question the wife of a slain Uzbeki drug lord who masqueraded as a building contractor. Lots of flashy new homes built to look like old ones with mirrored walls, chandeliers and torchiere lamps, all visible through vertical blinds if youre inclined to peek. (1/16/05)
Sahara * 2337 Coney Island Ave., Brooklyn, NY