1/2 The "We don't have any tables this evening unless you made reservations" spiel I was given at 6:30pm the Saturday before Tanoreen was reviewed in the New York Times, kind of threw me. Ok, bye. I wasn't going to be Minetta Taverned in Bay Ridge. As much as Sripraphai, too, has grown to attract diners beyond the immediate neighborhood (also to the point of impenetrability on weekend nights) I like that they've maintained a first come first served policy and are unlikely to start offering valet parking.
But I wanted a bunch of mezzes still. We'd parked in front of Sally & George's, but I didn't know if they were going to cut it or not. Maybe I am missing out, I just wasn't taking any more chances that evening. Off to Coney Island Avenue, home of Sahara and the most unlikely billboard advertising campaign that actually worked on me.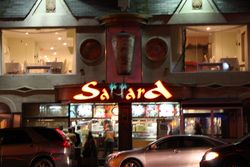 This is really the domain of Previously on Sahara, but before I had any inkling that I would be living on the corner of Fourth Place and Henry Street, I used to drive past a giant Sahara ad along the BQE, just a block south from where I now reside. From a distance the meat on a spit (poorly photographed plastic rendition on the façade of the restaurant pictured) looked like an ice cream sundae, at closer range, a meat sundae (just yesterday I read about the existence of a barbecue sundae—nothing to do with Middle Eastern food yet intriguing, right?). After countless billboard drive-bys, I eventually had to see what Sahara was all about for myself.
But really, my favorite things at Sahara have nothing to do with meat. The small cold appetizer platter (there is a selection of warm items, too, but I was trying to avoid an abundance of fried food) a.k.a. karisik meze tabagri is only $9.50 and contains hummus, baba ghanoush, eggplant spread, potato salad, fried eggplant, lebne (garlic yogurt and walnuts), tabule and a stuffed grape leaf. All their English spellings. Paired with the warm rounds of Turkish bread, it could easily be a standalone meal. Even shared, it's substantial.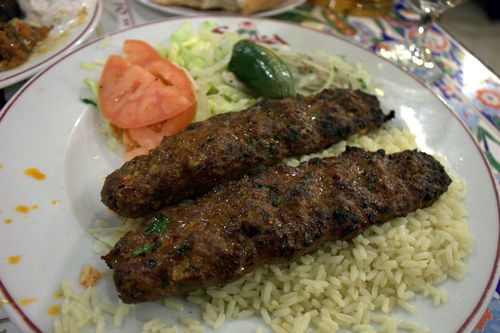 I also ordered one of the many lamb plus rice dishes, the beyti kebab, lightly spiced ground meat mixed with parsley and onion. There are seven other ways to enjoy lamb on the menu, as well as a page devoted to chicken and another to seafood. It has never occurred to me to try a whole sea bream or sword fish kebabs.
Leaving with leftovers, too full for dessert, I did stop by the front takeout counter and picked out two pieces of baklava to go. They didn't even charge me. Really? Service is not what big and bustling Sahara is known for, so this small gesture stood out. I couldn't picture a circumstance where Tanoreen would offer me pastries on the house.
Sahara * 2337 Coney Island Ave., Brooklyn, NY