Gus' Red Hots

Do you know what a Michigan is? I'd never heard of such an edible until we made the mistake of believing an I-87 roadside sign with the generic symbols for food and gas. Ten winding miles later we were in Willsboro faced with nothing more than a ratty convenience store/bait and tackle shop. There wasn't much in the way of sustenance, they didn't even have seltzer water, the only thing I could've dealt with. James picked up a soda and dill pickle Lay's. The only thing that caught my eye was an upside down paper plate covering an empty metal vat with "We're out of Michigan sauce today. Sorry." chicken-scratched on its back.
Still starving, we took our chances a few miles up in Plattsburgh, due to a highways sign that said Gus' Red Hots. I'm a freak for chains in big cities, but there's no need for that in little towns. I knew red hots were hot dogs. What I didn't know is that they're also Michigans. I'm a weirdo who doesn't like hot dogs so I convinced James to order the combo meal so I could at least look at them. Michigans are essentially chili dogs. These came with a sloppy joe looking meat slurry that had a faintly sweet cinnamony aroma like Cincinnati-style chili. Chopped onions are optional.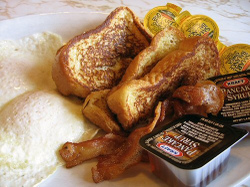 They don't use typical hot dog buns, but a top-sliced bun almost resembling white bread. James insisted these are common, though I swear I've never seen them.
I had french toast, eggs and bacon. The staples were all diner good, but I was disturbed by the default three mini packs of Smart Balance and synthetic syrup. Being an inexplicable condiment skimper, I only used half a vegetable oil spread and a third of one syrup container anyway.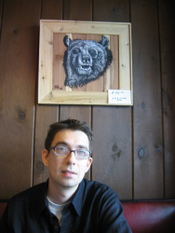 But whatever happened to butter and maple syrup? Heck, we were only 22 miles from Canada.
I love discovering new regional specialties (and bear art–I loved the painting over our booth)New to me, I mean. Obviously, upstate New Yorkers have known about Michigans for some time. Me, I'm only hip to bar food staple Buffalo wings. Apparently, Michigans can also be found in Montreal, which is news to me. Chili dogs just feel completely un-Canadian. Maybe if they swapped the ground beef for gravy and cheese curds, I'd be convinced.
Gus' Red Hots * 3 Cumberland Head Rd., Plattsburgh, NY