Peppa's Jerk Chicken

It doesn't seem right, but I don't think I've ever had jerk chicken. Real, fake, or anything in between. So, to become acquainted I thought I should start at the top. I really need to dig into that strip of Flatbush Ave. with West Indian everything. Bakes, doubles, roti, I don't know that food well and it's not because I don't want to (I love how doubles is singular like a McGriddles). I'd read about both Danny Express and Peppa's, which are a block apart and used to be one restaurant Danny and Pepper (food feuds seem rampant in NYC). I didn't have the appetite to try both, so I'll have to return for Danny (and the fascinating De Bamboo Express across the street. I thought Chino-Cuban and Indian-Chinese were it, but Trini-Chinese is crazy–they have freaking jerk lo mein on the menu. I'm also curious what "provisions soup" is).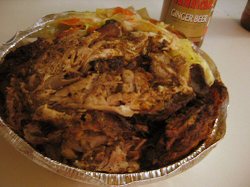 I wasn't sure how to order, as there were maybe five different prices listed for the jerk chicken. James said large, which I think was the $10 choice. I do know that the total bill was $12 and we had two ginger beers and I'm guessing the sodas were closer to $1 apiece than $2, though I could be wrong and we ordered the $8 portion of poultry. You get a round aluminum take out container filled with rice and beans topped with hacked up chicken and a little salad wedged into the corner. Before they pack it up (it's a bare bones take out joint with a counter and no seats) you can sauce your bird. They offer bbq sauce, which is odd and the scotch bonnet sauce, which makes more sense.
I think James went a little wild with the hot sauce, so it's hard to offer a true flavor profile of the meat. Obviously, there was an overwhelming spicy hit at first, but underneath a sweet, peppery woody taste emerged. I'm not sure what I had expected, but the chicken was far tastier than I'd anticipated. We definitely could've eaten more than we ordered. Initially, it looked like too much to eat, but that was because the rice and beans take up the bulk of the container. Normally, I'm pretty so-so on rice and beans but these were particularly appealing with a thick and smooth mouth texture. All I can guess is that there must've been lard or animal fat of some kind in them.
I was recently in a meeting at work and we were discussing our potential client, a chain restaurant that was failing with their Caribbean food concept and I don't have much hope for this pitch because everyone was clueless and asking what Caribbean food is and someone said jambalaya, which is retarded and then another said jerk, which prompted another to wrinkle up her nose and make a disgusted face. And all I could think was why am I in a room with these people (I've had this thought countless times before)? There's no way that someone who had eaten Peppa's jerk chicken would be able to scowl like that.
Peppa's Jerk Chicken * 738 Flatbush Avenue, Brooklyn