Wonder Seafood

? Since Edison has become my go-to suburban enclave, I've been looking for dining options beyond Quiznos and Cheesecake Factory (lovely as they are). After a little research, Wonder Seafood emerged as a dim sum contender.  But it was only recently that I was able to cross it off my to-try list.
The interesting thing about non-NYC dim sum is that while there are still crowds and a wait, the chaos level is lower, more English is spoken and forks are given (and used by many Asian-American youngsters).
Most of the classics were available, nothing struck me as out of the ordinary or terribly creative. It was a cart parade of greatest hits.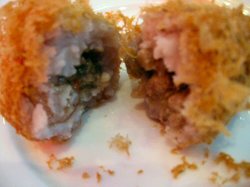 Wu gok. One of my favorites, maybe because I love the lavender shade of mashed taro. You have to be careful because these will you up.  Perhaps I shouldn't have started with them.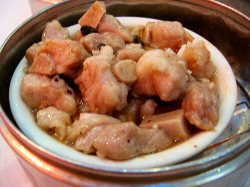 Spare ribs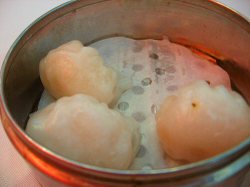 Shrimp dumplings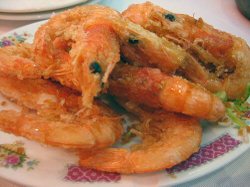 Salt and pepper shrimp. I ate a few heads, eyes and all, which might've been a mistake (as you'll soon see).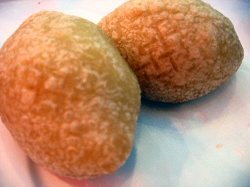 I didn't know what these were. I thought they would be sweet and hollow, but they have a glutinous mochi-like exterior with a rich chopped shrimp and pork filling.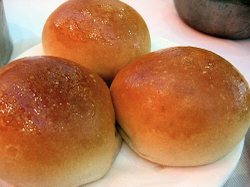 Pork buns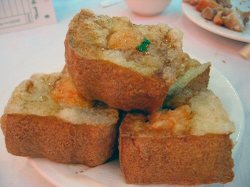 I grabbed these after we were done eating. I thought it was thick pieces of white bread, like a twist on '60s style fried shrimp toast. But it turned out to be bean curd (which James won't eat). We got them wrapped up to go and then I forgot them in the car overnight.
Ok, I really don't want to blame the dim sum, but I can't give an assessment of this meal without an unappetizing epilogue. About seven hours after dining at Wonder Seafood I became violently ill, the sickest I think I've ever been recent history. It is baffling because James and I ate the same items and I hadn't eaten anything else all day except for this meal. He was fine. I did eat a couple of prawn heads. I've always been a shell-eater despite the disgust it gives others. Could the crispy exoskeletons be the culprit? Who knows, but I'll probably steer clear of dim sum for a while.
Wonder Seafood * 1984 Route 22, Edison, NJ