Is Giardiniera Contagious?
I had to track down hot sauce from ten different Latin American countries in short order. That's not as easy as it might sound at first because Mexican is no problem. You could go to a Brazilian store (maybe in Astoria or 46th St. in Manhattan) or head out to Elmhurst or Corona and scout out Ecuadorian bodegas. It's all doable, but involves hunting and pecking. NYC is so not about one-stop shopping.
I had my trusty Western Beef to fall back on. If anyone would have a wide variety under one roof, it would be them. And I easily managed to find six out of my ten, from Mexico, Brazil, Columbia, Costa Rica, Dominican Republic and Ecuador. I didn't bother with photos of them, that's for a near future project that'll appear in print.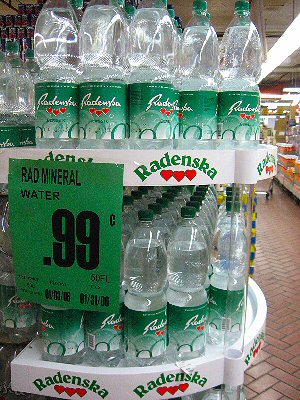 The advertised sale price expiring nearly two months ago is not quite so rad. But it still rung up at 99-cents.

So adorable, Fresquito almost makes you want to clean other people's bathrooms.

This cloudy plastic tub of who-knows-what always makes me wary. The word giardiniera is too close to giardia for my taste.