Super Casual Holiday Dinner Party
My Super Casual Holiday Dinner Party was originally intended as a post-Thanksgiving feast since it's never worth my while to cook anything substantial on the fourth Thursday of November. Everyone goes out of town except me (though this year I was able to rustle up two friends to go to Chestnut). So, I waited for the following weekend, but by this Saturday, Christmas spirit seemed to have taken over. Maybe it was the snow that fell that evening, that December was on the calendar or that we'd bought and decorated a tree that afternoon.
No matter, I was surprised at the number of RSVPers. Usually it seems like 30% will bow out, but I must've picked a good weekend because almost all were takers. I initially was anticipating 15 guests, that somehow swelled to 30, then subsided to somewhere in the 20s. I threw a similar shindig last year and attempted table seating, which was nightmarish.
This year it was totally buffet style, a mix of real ("blemished" Thomas Paul aviary plates off ebay, those green, blue and orange Isaac Mizrahi plates that everyone seems to own, and some caprice patterned Eva Zeisel, not the new all-white Crate and Barrel edition) and Chinet plates, classy plastic Costco cutlery that looked like metal, and everyone sprawled out, some in chairs, some on the floor. That's why I called it Super Casual. I've got the food down…presentation skills, not so much.
The bizarre thing is that our apartment is spacious by NYC standards, probably close to 2,000 sq. ft. but the kitchen is woefully small. I would gladly give up the second rarely used bathroom (but never the second refrigerator—that's pure decadence) for more cooking space.
I hate to admit that most of my recipes came from Epicurious. Cooking is like drawing to me. I can totally render something if I'm looking at it, but I can't reproduce images from my mind. I like having a recipe to follow. I might know that I want duck and a citrus sauce with some sort of twist, but I can't envision the exact end product. Instead, I have to browse for something to fit my criteria. The orange honey and tea sauce I ultimately settled on was exactly the type of accompaniment I had in mind but couldn't articulate.
I don't really get too esoteric or foody-ish, I'm very much a grocery store girl. A majority of my ingredients came from Fresh Direct (weird because I've only used them three times, and only for Thanksgiving) Trader Joe's and Rossman Farms, nothing fancy. The arugula was organic because it cost the same as regular. I mean, a carrot is a carrot and no one's going to spaz over my using store brand sour cream. And if they did, I wouldn't be hanging around them for long. Food, for me, is fun, a social vehicle, not something to show off. 
I'll freely admit to being a pathetic photographer (instead, I ramble on and on with words). Cooking for 25 can be harrowing, particularly in a tiny kitchen. And my serving dishes and pots couldn't accommodate the quantity. It was all about batches and hoping for the best. So, just getting the food coordinated and on the table was a feat in itself. After an hour of sating guests with snacks (vegetable pate, duck mousse, muhammara, baked brie, and Asian sweets) and alcohol, it seemed cruel to make them wait while I snapped shots of all the dishes. You'll have to use your imagination for much of it. Though I suspect attendees might soon come forward with additional photographic illustration.
The Menu:
Spicy Pumpkin Soup with Mexican Cream and Toasted Pepitas
Moroccan Arugula Salad with Beets and Ricotta Salata
Duck Breasts with Orange Honey and Tea Sauce
Carmelized Spiced Carrots
Jeweled Rice with Dried Fruit
Sticky Toffee Pudding
Mulled Apple Cider
Muhammara
Surprisingly good. I kind of hate roasting and peeling peppers, it's a pain, but the end effect is worth it. It almost looked and tasted like the dip contained dairy, maybe it was the ground walnuts.
Mexican Pumpkin Soup
The original recipe made 14 servings and I upped it one and a half times to get 21 bowls worth. But I'm not culinarily savvy enough to get the proportions right. I didn't think a straight 1.5 ratio would was necessarily correct, as nine cups of onions seemed excessive. I cut it down to maybe 7 ½ and to me, it felt a bit overpowering. I tried to cut the rawness with a little more milk and broth, a dash of sugar. I'd used all the canned pumpkin up, and then remembered a giant gross can of pre-seasoned pie filling that I'd accidentally bought a few years back and didn't have the heart to throw away. It'd been hiding in the back of the pasta and grain shelf for ever. I tossed in a big blob, and I swear to god it saved this soup from allium overdose.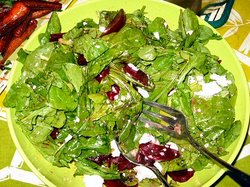 Moroccan Arugula Salad With Beets and Ricotta Salata
Perfect, except that I didn't have any serving bowls that could hold four pounds of beets and two pounds of arugula, which I didn't deduce until after whisking the full dressing amount in the intended bowl. After being eaten down 75%, I threw in the remaining vegetables and cheese crumbles. I ate from round two and it was fine, not lacking in dressing. The first batch probably had a bit extra, whatever, it all works out in the end. Once again, I was thwarted in my quest for designer produce. I envisioned candy striped beets for this dish, but they were out of stock.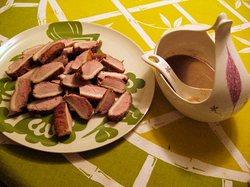 Duck Breasts with Orange Honey and Tea Sauce
  I have a disproportionate amount of vegetarian friends, so my worries that we'd run out of duck were unfounded. I just wanted to cook poultry that wasn't turkey. And goose is crazy expensive. Duck breasts were a good compromise, the best part of the bird and easier to manage. No hardcore carving. I knew the sauce takes an eternity to reduce because I did one smart thing and tried this recipe out a few weeks ago (I rarely do that, I know you're not supposed to use friends as guinea pigs but it usually turns out ok). You need to cook shallots in duck fat, which is rendered after the searing. So, I was smart enough to save the fat from my test run to get the sauce accomplished the day before the party. I only needed to rewarm it and finish it off with honey and a butt-load of butter.
Carmelized Spiced Carrots
I totally destroyed cookie sheets with this one. There was way more marinade than carrot (despite using six pounds of root vegetable). I felt bad just tossing the liquid, so I drizzled, no make that poured the dark brew over the carrots while roasting. It immediately occurred to me that the sugars in the pomegranate molasses were going to char like crazy, but I just went with it. About half way through I had to rescue the carrots and transfer them to a glass dish. The apartment was totally smoked up and the larger of the two sheets, crusted in black gooey ash. They didn't taste blackened, however. I'd originally wanted maroon and other colorful carrots for this dish, but didn't have time to scour farmer's markets or specialty shops. These were run of the mill orange sticks, but the roasting, spices and sauce darken the flesh anyway, the fuchsia quality would've been muted.
Jeweled Rice with Dried Fruit
Pretty simple and nice because it doesn't need a lot of attention, more than anything it sits. But for the life of me, I couldn't remember to add the pistachios at the end. I made this dish again last night with leftover parboiled rice that wouldn't fit in the pan during the party, and forgot the pistachios a second time.
Sticky Toffee Pudding
There are many variations on this sweet date cake, but I went with the version from last month's Saveur. I don't think it's online yet. Maybe I'll abuse copyright and type it out later. I couldn't track down black treacle (everyone's got Lyle's golden syrup, but not the dark stuff) so I substituted molasses.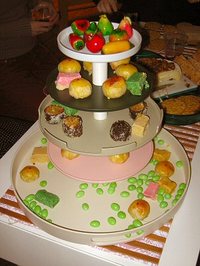 At the left, assorted mithai, candied pistachios and Thai marzipan fruit, which is one of the cutest things in the world. Who would've thought to use mung bean paste to simulate ground almonds? By the point in the evening, bolstered by many glasses of wine, I became obsessed with explaining what mung beans were and had to drag out the Visual Food Encyclopedia and totally got librarian on everyone's ass.
Spirited Hot Apple Cider
James was in charge of drinks and decided on a mulled apple cider. You couldn't even imagine the trouble it took to track down applejack in our neighborhood (Carroll Gardens, which is hardly off the beaten path). I had this same exact trauma a few Thanksgivings ago when I needed apple brandy for a gravy.