Devil of a Time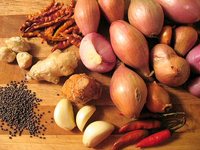 I wanted to make a curry from scratch to while away a potentially dull Christmas evening. I was limited to what I could forage in my pantry, freezer and mediocre local grocery store on Christmas Eve, but I did alright. Weirdly, the only thing I needed to leave the house for was potatoes, though I ended up buying a fresher piece of ginger, the world's saddest stalk of lemongrass and chicken drumsticks and thighs rather than trying to chop up the whole bird I had frozen. While not ideal, I keep galangal, candlenuts, birdseye chiles and shredded lemongrass (as well as curry, pandan, banana and kaffir lime leaves) in the freezer for situations such as this.
Originally, I was leaning towards Thailand for inspiration, then remembered devil curry a supposed Eurasian Christmas dish. I say supposed because this isn't a cuisine I've experienced it first hand (though I have tried Macanese food). It's not like Kristang culture, the Portuguese-Malay mix centered around Malacca, is exactly booming (I think I'm just partial because my name, Krista, is in the word). They're a dying breed, literally.
I found countless variations of devil curry in cookbooks and on the web. Nyonyas tend to add
shrimp paste and cabbage, Singaporeans use tomato, cucumber and chicken cocktail franks (at first, I figured this was a Muslim adaptation– in Kuala Lumpur I had a morning choice of beef bacon, turkey ham and chicken sausage–but the char siew kind of throws off that theory). I actually had a can of Vienna sausages on hand, but didn't feel the urge to include them, authenticity be damned. I wouldn't have bothered with the Chinese roast pork, except that including it was an excuse to have crab rangoon delivered. However, the sliced meat came completely submerged in a gloppy brown sauce (pictured, right) that I had to strain off.
I settled on a fairly simple version from Eurasian Favorites by Wendy Hutton and added a teaspoon each of shrimp paste and tumeric powder (the root is one thing I've forgotten to keep in the freezer) because those extra ingredients seemed important.
Chicken Curry Devil (Curry Debal)
1 2 ½ pound fresh chicken, cut into bite-sized portions
1 tablespoon black soy sauce
½ cup oil
2 medium onions, quartered
3 cups water
2 stems lemongrass, bruised
1 ½ teaspoons salt
8 ounces Chinese roast pork, cut into ¾" pieces (optional)
3 potatoes, peeled and quartered
2 tablespoons vinegar
2 teaspoons sugar
1 teaspoon hot English mustard powder
Spice Paste
2 teaspoons brown mustard seeds
12-16 dried chiles, cut in ¾" lengths, soaked to soften
4 large red chiles, sliced
14 shallots, chopped
2 tablespoons garlic, chopped
2 tablespoons ginger, chopped
1 tablespoon galangal, finely chopped
3 candlenuts, chopped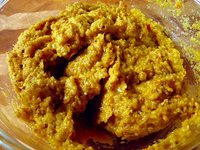 1. Prepare the spice paste by processing mustard seeds in spice grinder until coarsely ground. Add both lots of chiles, shallots, garlic, ginger, galangal and candlenuts and blend to a smooth paste, adding a little of the oil if necessary to keep blades turning.
2. Put 4 tablespoons of the spice paste and the soy sauce in a large bowl and stir to mix well. Add chicken and stir to coat with the mixture.
3. Heat a wok, add ¼ cup of the oil and heat until very hot. Add marinated chicken and stir-fry until it changes color all over, 3-4 minutes. Remove chicken pieces. Add remaining oil, reduce heat and stir-fry remaining spice paste and quartered onions over low-medium heat for 4-5 minutes.
4. Add water, lemongrass and salt and simmer 2 minutes, scraping any spice paste from the bottom. Add chicken, cover the wok and simmer, stirring occasionally, for 10 minutes. Add roast pork, if using, and potatoes and simmer until cooked, about 20 minutes, stirring occasionally. Mix vinegar, sugar and mustard, then add to the wok, stirring for about 1 minute to mix well.
5. Transfer to a large bowl and serve with steamed white rice.
Serves 4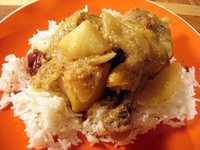 The end result was spicy, but not as hot as I'd anticipated. I'm betting that the devil curry will taste even better tomorrow. Especially since I used hotter chiles than the recipe called for. I can never find long red peppers like Holland chiles. But the curry definitely had that Malaysian quality, which I think comes from the belacan, candlenuts and massive amounts of shallots. I'm always dubious about the quantity called for, especially when some are small and garlic-sized, while others are almost as big as an onion.
* * *
On Christmas Eve I made Carmelized Salmon Deviled Eggs for a party. (Initially, I felt mild shame for using an Emeril recipe, but all was well when it turned out that another partier had brought a Rachael Ray creation.) Weird, I have no particular fixation on deviled dishes (which I thought meant mustard, but with the curry I think it means heat even though it does contain a touch of mustard). I just needed a recipe to make use of my impractical Rubbermaid egg carrier that I've only used once in three years.