Sheepish Endeavor
I like cooking, though I probably enjoy planning and eating more, but I don't revel in the act of preparing food like it's some sensual ritual or zen process. My favorite thing is fussing around with menu ideas (I'm already fixating on what I can make—duck, not turkey—for a post-Thanksgiving dinner party that I fear won't be well attended despite not falling on the holiday proper when everyone else seems to have places to be except for me). Perhaps that's why the idea of being a chef has never appealed to me. Not that I'd want to be a party planner or caterer either. My cooking ambivalence is why I rarely record what I make, plus I use recipes, not things out of my head. But I'm trying to document a random dish here and there, just for the sake of practice.
* * *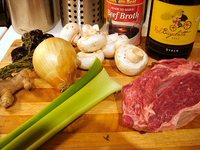 With the temperature finally starting to dip, Individual Lamb Pies from the latest Martha Stewart Living (I read it at work, if you must know) seemed seasonally appropriate. Besides, hers looked so cute with the little holes punched from the crust, and it gave me an excuse to purchase some relatively unnecessary kiwi green Le Creuset petite casseroles (two, rather than four because I'm cheap—I had to scrounge around the apartment in search of two other appropriate vessels, and settled on little Pyrex bowls ).
Everyone knows you're supposed to read recipes thoroughly before attempting them, but I flaunted convention and there was trouble. I didn't realize the lamb had to cook for two hours, that the pies had to refrigerate 30 minutes before baking, and I didn't think to check the rarely used tub of shortening (it had gone rancid). So, I used all butter and barely squeaked by with the stick and a half on hand. I used every last poof of flour, exactly 2 1/2 cups worth. The rolling pin and board had to be dusted with old cake flour.
But it wasn't a disaster by any means. The crust just didn't seem as flaky as it could've been, and the pies weren't ready until after 11pm, which isn't all that unusual for Sunday evening when I always stay up too far past midnight in denial of rapidly approaching Monday.
I made an equally autumnal arugula, goat chese, fig and toasted walnut salad to tide me over. But it was one of those Cooking Light recipes, which are generally better than you'd expect (often the light aspect comes more from portion sizes than ingredients and I end up eating two servings, totally defeating the original purpose), though their salad dressings skew the vinegar to oil proportion in favor of the acid, which can come on too strong.
The benefit of cooking four pies for two people is that you can eat another the following night. The leftover pie was way more flavorful than the original, but didn't look as charming minus the mini crock.