Nights in Purple Satin
This past weekend at Target I was almost able to recapture the original joy I felt when first discovered purple spooky cat Peeps. Always a sucker for new merchandising gimmicks, I couldn't resist the Peeps cat purple satin pillow. I don't know if this is a new product or not, but I'd never seen it before. Never mind how disturbing it is to be faced with aisles of Halloween candy when it's still mid-80s and humid, I still bought the cat (and somehow refrained from the sweets).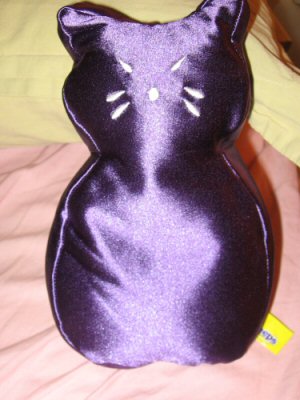 As I've said probably a million times before, I'm not much of a soda person (I wish I could say the same for other sweet junk food). I don't feel the urge to drink many brands, but Jones Sodas always look so appealing that I couldn't resist also picking up a mini four-pack of Halloween caramel apple flavor at Target. I had no trouble leaving the candy corn flavor on the shelf, however.