Tapas Party
Sometimes it seems that 90% of the food I make is Asian in some way. I just can't help myself, it's what I love. But recently I gave into the Spanish/Basque bug that seems to have bitten every food editor, aficionado and amateur on the planet (It has always kind of bummed me out that I was raised so white bread suburban, no culinary lineage to speak of, unless you count tossing frozen Banquet chicken into a baking dish as cooking. But I am Basque. Sure, only a negligible amount, somewhere in the 1/8-1/4 range, but it's a pretty cool heritage to claim if you're going to adopt one as an adult–especially, seeing as how it's a current culinary darling. And now that my dad is gone I wish I had learned more about those Mexican and Basque roots, though admittedly his Applebee's ways probably wouldn't have shed much light on the matter.) and threw a birthday bash, complete with plenty of tapas, traditional and nuevo.
It was a little risky considering many of my friends are either vegetarian or carnivores who might still shy away from blood sausage and anchovies. But it's impossible to please everyone. I stuck to my guns and made things I'd like to eat (never mind the birthday boy), which is the best route sometimes.
Around the beginning of the year The New York Times, Food & Wine, and Gourmet all did tapas features. It was kind of bizarre, the barrage. I didn't want to be a direct copycat, but I did draw from these sources as well as a few books.
My menu included:
Cheese: Cabrales, Queso de Murcia, Idiazabal, Mahon, Manchego
Snacks: Spanish olives, Marcona almonds, Serrano ham, quince paste
And the following:
Anchovy and Pepper Roll-Ups
1 7.6-ounce jar Spanish piquillo peppers
1/2 pound white anchovies.
Slice peppers into 1/2-inch strips. You should be able to make 60. Place an anchovy on each pepper strip, roll up and skewer with a toothpick. Serve.
Yield: About 60 pieces
Take a Cup Of Tapas Yet For Auld Lang Syne, by Florence Fabricant. New York Times. December 29, 2004
I had lots of these left over–not many anchovy fans in the house. I ended up mashing the remains and tossing the resulting chunky paste with pasta. A nice second life.
Pear and Cabrales Canapés
5 ounces Cabrales or other blue-veined cheese
20 dried pear halves.
Mash cheese until smooth. Carve away cores of pears. Spread half the pears with cheese, top with remaining pear halves, and cut each into fourths. Serve.
Yield: 40 canapés
Take a Cup Of Tapas Yet For Auld Lang Syne, by Florence Fabricant. New York Times. December 29, 2004
These weren't bad, but a little tangier and chewier than I'd prefer.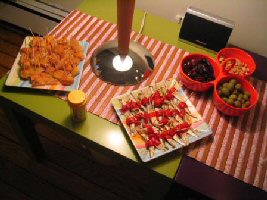 Chickpeas with Blood Sausage in Garlic and Parsley
Garbanzos con Butifarra negra
From Bar Pinotxo, Barcelona
olive oil
½ large onion, thinly sliced
1 garlic clove, finely chopped
2 tablespoons finely chopped fresh parsley
1 oz. golden raisins, soaked in hot water for 15 minutes and drained
sprinkling of pine nuts
5 1/2 ounces. blood sausage, fried and coarsely chopped
14-ounce can chickpeas, drained
salt and pepper to taste
Put two tablespoons of olive oil in a saucepan over a low heat, then sauté the onion until it is just tender. Add the garlic, parsley, raisins, and pine nuts, and mix well.
Add the blood sausage and chickpeas and heat through, stirring all the time. Season with salt and pepper. Transfer to a serving platter, drizzle with olive oil, and serve at once.
New Tapas: Today's Best Bar Food from Spain, by Fiona Dunlop. Laurel Glen Publishing (2002)
I absolutely love the flavors in this salad. It might've been one of the least eaten dishes, but that only meant more for me later. I've since made it with chorizo, mainly because blood sausage isn't always on hand or nearby, and the result was still pleasing.
Chorizo With Sherry Finish
2 whole chorizo sausages, about 9 ounces each
Leaves from 2 branches fresh rosemary
1/4 cup dry white wine
1 cup fino sherry.
Peel casing from chorizo, and slice sausage 1/2-inch thick. Place rosemary on a cutting board, and lightly bruise with a rolling pin.Place chorizo, rosemary, wine and 3/8 cup sherry in a skillet that will hold chorizo in a single layer. Bring to a simmer and cook, turning chorizo once or twice, over medium-low heat until wine has evaporated, leaving bright red fat in the pan, about 15 minutes. Remove chorizo from pan and discard fat.
Return chorizo to pan. Just before serving, add remaining sherry, briefly reheat chorizo, and transfer, with pan juices, to a dish. Serve, with toothpicks or wooden skewers.
Yield: 60 pieces
Take a Cup Of Tapas Yet For Auld Lang Syne, by Florence Fabricant. New York Times. December 29, 2004
I used the small chorizo from d'Espana Foods (they have a website and I can't re-find it for the life of me) and neglected to peel the casings. I was spared the fiddly work and it turned out fine.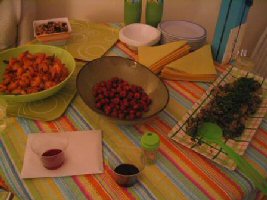 Minted Lamb Meatballs
Albóndigas de Cordero a la Hierbabuena
From Enrique Becerra, Seville
1 pound, 2 ounces lamb, ground or finely chopped
salt and pepper to taste
4 tablespoons soft bread crumbs
1 tablespoon chopped, fresh mint
2 small eggs, beaten
Salt and freshly ground pepper
1/2 cup extra-virgin olive oil
3 cloves of garlic, finely chopped
1/2 cup dry sherry
1 tablespoon olive oil, for sauteeing
sauce
2 onions, finely chopped
1 clove garlic, finely chopped
1 tablespoon olive oil, for sauteeing
1 cup thick tomato paste
1 tablespoon dry sherry
water, for thinning
Combine all the meatball ingredients, except the olive oil, in a large bowl and mix well. Form the meat into one-inch balls and saute in oil until lightly browned on all sides. Drain on paper towels and set aside.
In the same pan, saute the onions and garlic for the sauce in olive oil until soft. add the tomato paste and sherry and simmer for 10 minutes. Remove from the heat.
In a blender, puree the sauce until smooth, andding a little water if it's too thick. Return the sauce to the saute pan and add the meatballs. Bring to a boil and cook over a medium heat for about 10 minutes. Serve hot.
Makes about 32 meatballs
New Tapas: Today's Best Bar Food from Spain, by Fiona Dunlop. Laurel Glen Publishing (2002)
These were a hit, though there was a minor trauma with under done centers. They took longer to cook through than expected. Luckily, this was rectified before the bulk of the guests arrived.
Garlic Paprika Shrimp
1/2 cup extra virgin olive oil
2 tablespoons hot smoked Spanish paprika
1 1/2 teaspoons ground cumin
salt, to taste
1 teaspoon cayenne pepper
5 cloves garlic, sliced
3 pounds large shrimp, peeled and deveined
Juice of 2 lemons.
Pour oil into large pan. Add paprika, cumin, salt, cayenne and garlic. Cook just until garlic starts to brown. Raise heat to medium-high and add shrimp. Cook until pink, about 3 to 4 minutes. Toss with lemon juice.
Will serve about 15 people if part of a larger spread.
Minted Eggplant
1/4 cup Sherry vinegar
3 medium eggplants (2 lb total), trimmed and each cut lengthwise into 8 wedges
3/4 teaspoon salt
1 garlic clove, minced
1/2 teaspoon dried oregano, crumbled
1/8 teaspoon black pepper
6 tablespoons extra-virgin olive oil
2 tablespoons finely chopped fresh mint
2 tablespoons finely chopped fresh flat-leaf parsley
Special equipment: a 12-inch collapsible steamer basket or a pasta pot with a shallow perforated colander-steamer insert
Bring 1 inch water and 2 tablespoons vinegar to a boil in a large pot (or a deep skillet with a lid). Arrange eggplant, skin sides down, in steamer basket and sprinkle with 1/2 teaspoon salt, then steam, covered, until tender, 15 to 20 minutes. Transfer basket to sink and let eggplant drain 5 minutes.
Transfer eggplant to a deep platter. Whisk together garlic, oregano, pepper, remaining 1/4 teaspoon salt, and remaining 2 tablespoons vinegar in a small bowl, then add oil in a slow stream, whisking until combined. Pour dressing over eggplant while still warm and let marinate at room temperature, basting with dressing several times, 2 hours. Sprinkle with mint and parsley just before serving.
Makes 12 servings
Sketches of Spain, by Ruth Cousineau. Gourmet. January 2005