Posts from the 'Ridgewood' Category

I never thought I'd be eating Vietnamese food next
to Western Beef on the Brooklyn-Queens border. The regional chain's
Metropolitan Avenue flagship–sprawling, no nonsense, with a large selection of
Latin American, Caribbean and Eastern European products–has always been my
favorite NYC grocery store since I first moved to the city, i.e. Ridgewood (barely
qualifying as The City) fifteen years ago. (It's where I took my photos when I
was inexplicably featured in Elle a few years back.)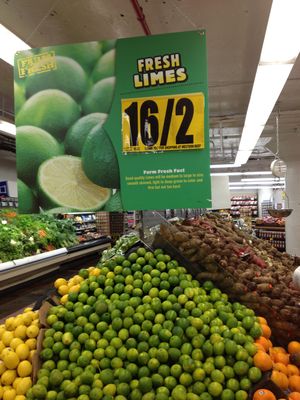 Sixteen limes for $2? Come on.

European specialties may as well be big plastic
bottles of Russian beer.

There is even a house brand of quarter waters (and
malta–too gross to show).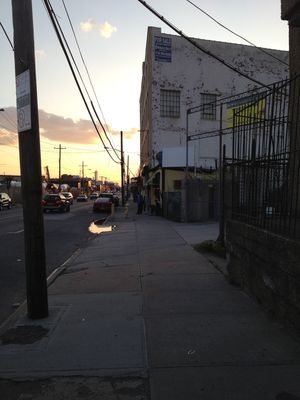 The organics showed up not too long ago, and then I
braced for my canary in the coalmine: Fage yogurt (Chobani always hits first,
sitting alongside Tropical and Yoplait). What I didn't anticipate were niceties
creeping up outside the gate. Step out of the parking lot, turn to your right,
and Bun-Ker is embedded in the neighboring industrial strip like a daytime-only
sandwich stand, previously the only food in the immediate area. I do not bemoan
this breed of gentrification.
The only thing keeping the small restaurant–it
seats twenty at best–from being impossibly packed is the long haul from the nearest
subway, the Jefferson L and general lack of additional nearby attractions
(there are some Bushwick bars). I don't expect the same person spurred to try hinterland
banh xeo to be excited about hanging out in Western Beef's meat locker.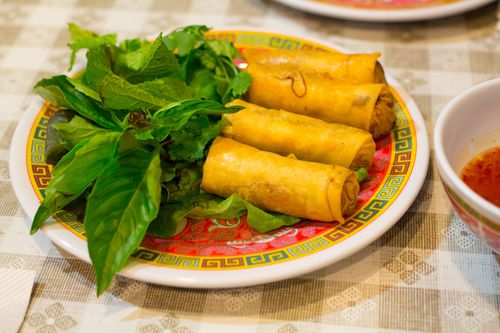 Crab spring rolls are one of five starters and semi-healthily
satisfy an urge for fried food. The accompanying cilantro, mint and Thai basil add
fresh herbal notes and crab is lighter than the ground pork you more commonly
find mixed with glass noodles and stuffed into these shells.
Nothing is flashy either. Producers aren't
name-checked, but you know you're eating something more carefully thought out
than at one of the many interchangeable Vietnamese restaurants in old Chinatown
or Elmhurst. (Seeing bo bo chicken made me feel guilty about the factory-farmed
chicken thighs–and skirt steak and pork shoulder–warming in the car trunk
while eating.)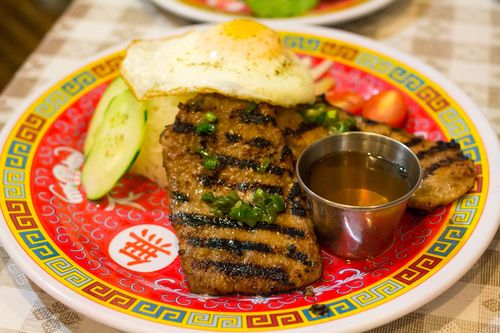 The slices of pork loin, not chops, in the suon nuong
xa, are straightforward. Lemongrass shines through, though it's the char from
the grill stands out.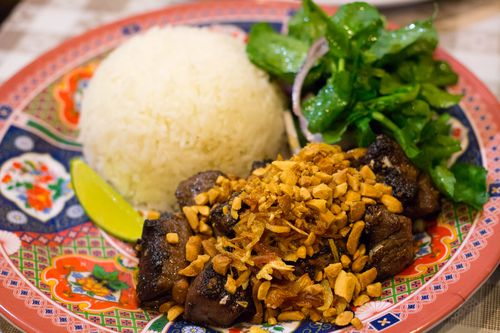 Bo luc lac a.k.a. shaking beef comes with a watercress
salad, a traditional combination. (I've heard this is sometimes served with
french fries in Vietnam, sort of steak frites, sort of lomo saltado. All I know
is that I want it.) Once again, I was enamored with the smokiness, and how the seared
cubes, super tender, got sweetness and crunch from the crushed peanuts and
fried shallots.
The menu is relatively brief, sticks to familiar dishes
without being rigidly classic; the vegetarian banh mi features havarti and
smoked gouda and there's a Thai massaman short rib curry. Part of me would like
to see a few lesser-known offerings (then we could call it the Vietnamese Pok
Pok) but the more I think about Bun-Ker, the more feelings it gives me–swayed
by context, admittedly.  It would just be
likeable, not remarkable in the East Village or Park Slope (and more expensive). Scrappiness lends some charm.
Bun-Ker * 46-63 Metropolitan Ave., Ridgewood, NY

This place has been right under my nose and beneath the M tracks for the
past two and a half years, and yet I just now ventured within. I always
imagined the interior to be sort of akin to an un-remodeled Denny's with a
senior crowd. This guess was not far off. I didn't realize there were two
sides and that on this occasion, I'd chosen the diner entrance. I was
greeted by wood paneling and turquoise puffy seats like the place hadn't
been touched since the early 70's (possibly late 60's). I don't know if the
clientele has changed much in 30 years either. There were plenty of old guys
harassing one of the waitresses about her (one of many) boyfriends, some
better behaved elderly women who went to the restaurant section and MTA
workers who sat at the counter.
Oh yes, the food. It's nothing to write home about. Hamburgers, chicken
salad and the like, though the kids' menu is amusing with plates named after
animals like the Donkey. Don't go out of your way, but if for some strange
reason you find yourself on the M in Ridgewood, hop off and grab a bite to
eat. You'll probably get some free entertainment in the deal. (1/27/01)
It's gone! I only moved away a year ago and they've already changed the
neighborhood on me. I feel like an old-timer.

Maasbach's * 6694 Fresh Pond Rd., Ridgewood, NY