1/2 You might think noodles were the main attraction, based on King 5's name but I'm not sure that that's the case. Taiwanese breakfast (sweet or salty soymilk and doughy things like you tiao and those bings that seemed to have taken Manhattan last year) is a draw but getting to Flushing in the a.m. is just not happening for me.
Instead, I stopped in for takeout spicy beef noodle soup and then got stymied by their three entrees for $19.95 special because there were so many choices. The heaving bag I ultimately took to go had to have weighed over ten pounds. The beef noodle soup didn't suffer too much from the journey home because they package the noodles and broth separately, a nice touch. I was thinking along pho lines but the stock is deep brown and much richer. Completely un-delicate, spicy and stew-y like cold weather fare.
I had been looking for something called three cup chicken but didn't see it on the menu, though it's possible that it went by another name. Chicken with chestnuts sufficed. That sounds potentially bland but was anything but. I forget how good hacked up skin-on, bone-in chicken can be because I never cook it at home (where there's just a sad bag of Costco chicken breasts in the freezer). This was my favorite of the three dishes I tried. I find that Taiwanese food is strong in the right ways: pungent, oily, salty and spicy but not so much as Sichuan.
I had to try intestines because they popped up in more than one place on the menu. The ma la rendition wasn't Sichuan peppercorny in the least. In fact, they were totally done E3 style (shorthand in my household for Thai stir fry with chile and basil). Another surprise was the form. I imagined thin, lengthy organs like I'd recently eaten with Argentinean parrillada but they were girthy and sliced lengthwise and had more of a tripe quality. I like innards so all was well, but I hate to admit that I don't know what animal they came from.
Beef with green chiles were totally green chiles with beef, in a good way. This would be a great lunch with a big bowl of rice. I'd certainly rather have this dish over sushi or Subway sandwiches.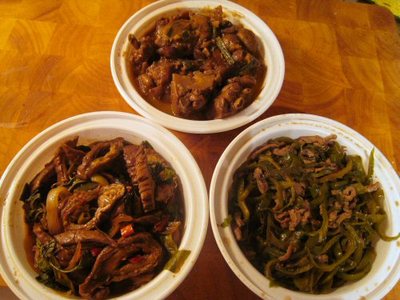 Refrigerated takeout containers aren't the most appetizing but I'm just not motivated to set up elaborate shots. Even though my words are no great shakes, I'm even shakier when it comes to stellar photo snapping. I admire, yet am stymied by food blogs with over the top photography. I was just going to stereotype and say that it seems to be an Asian thing but thought better of it (I don't want to get the reputation for culture generalizing—I've already pointed out that macaron mania also seems to be Asian-centric) then was like how can something be a stereotype if it's true and are stereotypes so bad if the attributes are positive?
There's just a different aesthetic going on. Seriously, so not my realm: Chez Pim, Chubby Hubby, Kuidaore, Nordljus. And those are just ones that immediately sprang to mind. Of course, I'm sure I could easily find four Asian-run food blogs with horrific photography if I tried but I don't want to cause any trouble (at least publicly—I'm going to go look for some ugly pictures this very second and keep them all to myself).
My succinct and objective take on King 5 for nymag.com
King 5 Noodle House * 39-07 Prince St., Flushing, NY