I knew this would happen. My birthday somehow seemed to get lost in the shuffle this year. This was my annual celebratory dinner from way back in July. Now I've already gone on vacation and it's practically the middle of August. Barcelona is fresh in my mind and Cookshop seems like old news despite being a very charming restaurant.
Every time I've started to describe Cookshop to someone it ended up sounding mundane. Nice or interesting don't really cut it. To say, "I had a salad with blue cheese and bacon" doesn't really cut it. But I did have a salad with blue cheese and bacon. Simply, the food tasted like food…but better, and that's kind of novel. Rather than elaborate, I'll show some semi-pretty pictures.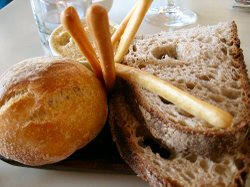 Nice to see that carbs are back. I could've sworn the dip had tarragon in it, but supposedly it was a creme fraiche and onion blend.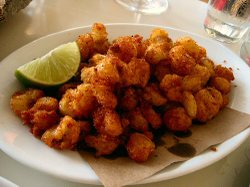 Chile dusted fried hominy is a total appetite killer. I could eat the whole plate myself, though it's probably best suited for sharing.

Here's that bacon and blue cheese salad. I was thinking that it was iceberg, but I think it was butter lettuce. It was one pile of rich, creamy goodness.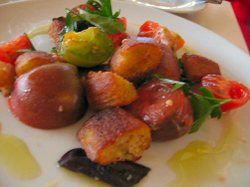 Heirloom tomatoes, opal basil and fried cornbread chunks. This is a perfect example of the simple  food food approach.

Sea bass with zucchini and I'm not sure what else since this wasn't my dish.

Grilled rabbit with polenta, favas and salsa verde. This was the dish I was least crazy about. Maybe I'm not fond of rabbit as I thought.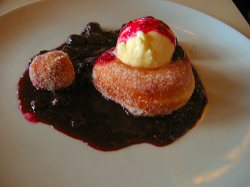 Warm donuts, buttermilk ice cream and blueberry compote.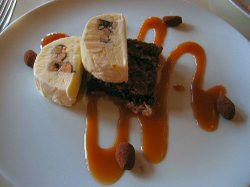 Brownie, caramel, cocoa covered almonds and what I think was coconut ice cream.
Cookshop * 156 Tenth Ave., New York, NY