Tia Pol

I had avoided Tia Pol for ages because I feared it was the type of place that would make me unhappy. You know, tiny, cramped, jostling, long waits. All of that was true, but it didn't bother me. Maybe it was the drinks I'd downed prior to dinner.
One of the main reasons I'd never been to Tia Pol is that it's just not on my way to anything. I finally found an opportunity when I decided to see Architecture of Density, a series of photographs by Michael Wolf at Hasted Hunt Gallery down the street. I never go see art, but I really love these images of Hong Kong and got an invite from the photographer after writing online about how I was just going to blow up color photocopies of images from the book since I couldn't afford the $8,000 (or so) price tags. I always forget that people actually read what I write occasionally, and it's probably not wise to talk about things like flagrantly violating copyright (or tax laws).
So, there's nothing like little bites after viewing large scale photography. There was about a thirty minute wait, and the bar area is narrow, but like I said, it wasn't unbearable. We eventually got a nice two-seater in the back away from the fray.
With tapas I'm never sure if I'm under or over ordering. Our strategy here was to order a decent number of the small sized servings (most items come in two sizes) and opt for more if necessary (I've never actually done this when using this plan of attack, for fear of seeming too gluttonous). A glass of Txakoli made a nice accompaniment.

Grilled sardines with a carrot slaw. There was a distinctive coriander seed sweetness to the shredded vinegared vegetables.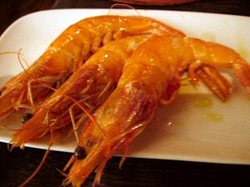 I can never pass up the gambas. My question is whether or not you're supposed to eat the shells. I always do, and the heads too. Is that barbaric?

Chorizo, chocolate and little chile strands. Yes, the combination is peculiar, though not untasty. I think it's just regular chocolate, possibly milk chocolate. I can see it working better with a darker more bitter permutation.

Classic patatas bravas. Weird how mayonnaise can be so blech, but aioli can be so addictive. That's garlic for you.

Blurry lamb skewers. Nice and cuminy.

I can never recall all the contents of a cheese plate after the fact. But there was definitely some marcona almonds, honey covered walnuts, quince paste, cabrales, manchego and idiazabal.
Tia Pol * 205 Tenth Ave., New York, NY