After our welcome to Miami mishap in finding the Latin American Cafeteria, we never made it back out to that part of the city. I'm not even sure what that part is even called. We passed through Coral Gables, that's all I know. Sad, but we ended up settling for an offshoot, which may or may not be related to the original, wedged in a kind of horrific South Street Seaport conglomerate of shops called Bayside Marketplace.
Once again, I was so sweaty that I didn't feel like eating (I began wondering if residents were somehow genetically inured to humidity because no one ever seemed to care, and even dared to dine al fresco, while I was perpetually hot and bothered, literally and idiomatically, even in air conditioned restaurants like this one. I was relieved to see one waitress moist-faced and fanning herself).
But I wasn't going to come all the way to Miami and go cubano-less. A medianoche, which our waitress actually called a "midnight," was the sensible solution. Sure, it's on sweeter bread but it's more manageable in size. I'm not actually sure why it's named as such, though I can envision it as a suitable midnight snack.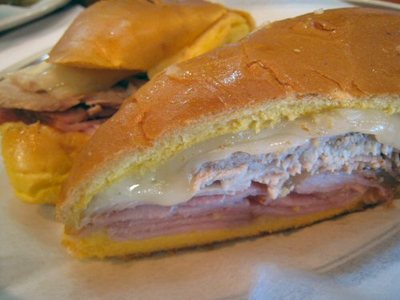 There was definitely no NYC salami aberration occurring (which I actually like). And the most interesting thing I experienced and have heard is the norm, is no inclusion of condiments. The mustard I always assumed was standard, was offered in a foil packet, totally do-it-yourself. And definitely no mayonnaise, which is fine by me. The roast pork is so moist and naturally flavorful that it could actually stand as it's served. I did try a few shakes of Frank's Xtra Hot that was passed our way. Of course, the ham, swiss and pickle are included.
In a perfect world I could've conducted some form of taste test but that kind of determined eating requires more than an extended weekend.
Latin American Bayside Café * 401 Biscayne Blvd. # S102, Miami, FL