Shovel Time: Sushi Tokami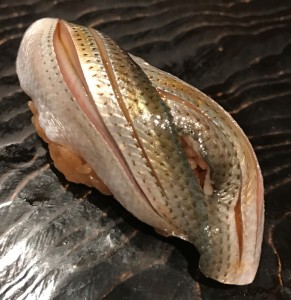 This was not a sushi-splurging vacation (especially since I was spotting my boyfriend–yes, I've entered the future Judge Judy litigant stage of the relationship).  But it would be a shame to travel to Tokyo and not experience stellar sushi.
Saito, Sawada, Sukiyabashi Jiro, and that ilk was out of the question. I wavered among the second still-celebrated tier: Sushiya, Sushi Iwa, or Tokami. Lunch at all those three were supreme values. It wasn't the cost holding me back, or the exclusivity (no one's going Saito except select regulars) but the inability to score a reservation.
There's not really an OpenTable in Japan. You can't request reservations by email. I tried a workaround with the Gurunavi (free!) reservation service for restaurants on their site (Iwa) and of course you have to call–Japan has not got the memo that phones are only for texting now–and I was told they couldn't make reservations at Michelin starred restaurants. I resorted to calling Tokami after practicing a few Japanese phrases. The women answering replied curtly and in English, "We don't take reservations from tourists. Your hotel has to call." If you're staying at an Airbnb, you're shit out of luck. I was trying to get to the bottom of this reluctance and the phrase "liability" was bandied about on message boards from those in my same desperate situation. I interpreted that as restaurants don't want to deal with no-shows, non-local phone numbers, and somehow a hotel concierge, possibly with access to your credit card, is the only guarantee you'll arrive as you'd promised. 
Anyway, way too much detail, but I finally realized that my Chase Sapphire Reserve card (that made this whole trip possible, amazing business class round-trip included) had a concierge service. Even that was a whole lot of rigmarole and being sent a list of etiquette rules like it's rude to be late (I'm obsessed with punctuality so), perfume is frowned upon, and so on.
Anyway again, I settled on Tokami because the chef, Hiroyuki Sato, reportedly was relatively young, spoke English, and had a more playful, less stoic demeanor. And it was the perfect choice. Lunch was roughly $120 (tip included, of course) for 16 pieces of sushi (smaller omakases are available). Tokami is a tuna specialist, so we were treated to three cuts of tuna, all levels of fattiness, which practically justified the cost of admission. Hokkaido uni also made an appearance, and the meal was rounded out with a torched tamago, almost like creme brulee, the chef's signature.
I'm not going to detail every nuance but I can't let these photos only exist on my hard drive. The rice, which resembles brown rice, is a darker hue because the chef uses red vinegar, a traditional edo-mae style that's kind of polarizing. I didn't think it overwhelmed the delicacy of the fish.
These were my notes:
Smoked bonito
Flounder
Squid
Scallop
Chūtoro (medium fatty)
Akami ("regular" bluefin–interesting that it was not a straight line from lean to fatty)
Ōtoro (fatty tuna)
Kohada/shad
Ikura/roe
Ebi/shrimp
Kisu (?)
Ikura (not sure how this was different from the above roe)
Clam
Yellowtail
Uni from Hokkaido
Rock/black (?)
Anago/eel
Miso soup
Tuna handroll
Tamago
I never take photos with chefs. I was just going to take chef Sato's photo, but he wanted us to join in–and very social media-savvy, he suggested I hold up the nameplate of the restaurant that normally would hang behind our heads. Win-win.
He sent us off with the name of his former sous chef who'd started working at Azabu in NYC. The week prior, though, Azabu lost its Michelin star and Sushi Inuoue, that's helmed by a former Azabu chef (and my good friend's sort-of-boyfriend), was just granted one. I can't decide where to go next. (Ok, neither–I just went to Tanoshi under the guise of checking out the new Second Ave. subway.)
Sushi Tokami * Ginza 8-2-10 | Ginza Seiwa Silver Building B1F, Chuo 104-0061, Tokyo, Japan