Eaten, Barely Blogged: Oregon, Better Late Than Never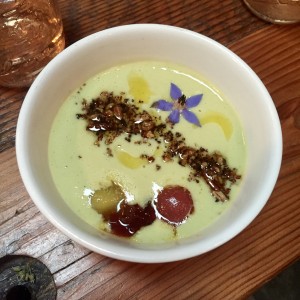 Mae. I was reluctant to eat at a Southern food pop-up in Portland. Who needs it? (I would be more interested in a Pacific Northwest pop-up on the South except that there isn't a distinct cuisine to speak of.) But it was one of the highlights of my trip; very vegetable-focused, light when it needed to be (chilled zucchini & buttermilk soup with sweet pepper relish, cherry tomato, and sumac-toasted pecans and lingerie beans, flame nectarine, pickled chantrelles, purslane with brown butter vinaigrette) hefty when it was required (chicken fried in three fats–no idea which). And I will never again underestimate the power of biscuits slathered with Duke's mayonnaise and topped with nothing more than heirloom tomatoes and bourbon barrel-smoked salt. At $65 (suggested donation) for ten courses (was too busy eating to take photos of them all) and BYOB I would consider it a great bargain, though in Portland that means you'll be sharing a table with some wealthy middle-aged Bergen County transplants and siblings from Eastern Oregon of mysterious means (and a dubious relationship) one whose child with a septum piercing will be going to Harvard in the fall. I was the only teenager-free diner at the table (even my boyfriend has a daughter going to the cool downtown public high school, which everyone approved of) and when the sister from Pendleton made everyone state their favorite movie, and wouldn't let up after I demurred, I was like maybe I'm a poor conversationalist? No matter, when there's pickled ramp pimento cheese to be eaten.
Nodoguru. $125 ticketed omakase that sells out in minutes. It was all right. Something about it felt off for Portland, not that I'm critiquing quality or creativity.  I just couldn't get excited because I'm a jaded monster.
Pizza Vendor. Totally the break-out hit of this trip. With its straighforward name and no reason to go unless you happen to already be in Scappoose identity, it suited my needs just fine. It's the childhood pizza of your dreams, half-and-half if you please, lots of cheese, thin, chewy, and puffy cornmeal-dusted crust, except that now you can get pitchers of beer instead of root beer and I still can't figure out how what seemed like six-pints worth of some local IPA was only $6.99. Bon Appetit had recently declared Pizza Jerk, a take on East Coast pizzerias, one of America's Best New Restaurants despite it being closed due to a fire. Magically, it reopened two days before I was to head back to NYC. I had planned to hit it on the way to the airport but went back to Pizza Vendor instead.
Hat Yai. It's no secret that I'm a fan of Portland Thai food. There are all sorts of interesting niches being filled despite the Thai population being practically nonexistent. The shtick is Southern Thai in a fast-casual format with cute branding. Fried chicken, lightly battered in seasoned rice flour encrusted with fried shallots and sweet chile sauce is featured and I tried a combo with a big buttery roti and chicken curry, not exactly a light lunch. I kind of love that there are six straight liquors for $6, soda an extra $1.50 (though I'm sure that's considered overpriced since a majority of cocktails in Portland are still sub-$10) as I've been on a tequila and soda kick (so I can pretend I'm not a lame as a vodka soda-drinker). Sometimes I think I will move back to Portland and then I see middle-aged foodie dudes with goatees setting up elaborate photo shoots (was under the impression this was a blogger of some consequence) who pronounce prix fixe, pree fixay, and I'm all nope, I would just be too mean for this town.
Urdaneta. Stopped in for a snack because I was wandering around the area and recognized the name as something newish and ended up ruining my appetite for the $5 Little Bird happy hour double brie burger I had planned on later. Complimentary pimenton-spiked chickpeas and a sweetbread-topped pintxo would've suited my needs fine. The tortilla was substantial, gilded with Idiazabal and sherry aioli, and I couldn't stop eating it.
Pine State Biscuits. I've been before. It was close to my Airbnb.
Giant Drive-In. There's a shingled A-frame practically in the backyard of the apartment complex my mom and stepdude are now managing. No, it's not a destination but I would recommend the big, fun (Hawaiian!) burgers and homemade shakes even if you lived a little more than walking distance.
Cedar Plank Buffet. We gathered 10 family members for a Sunday brunch buffet at Spirit Mountain Casino because nothing is too good for my mom's 66th birthday. Fried oysters, smoked salmon, biscuits and gravy, lemon meringue pie, french toast, and bacon is just all a part of the deal.

Mountain View Sports Bar. Oh, and a late night sports reuben that I carted around from my mom's to Scappoose because I'm gross and can't toss food. I can't remember if this was before or after the mushrooms and Keno (my sister is a hippie) but it was ok because we stayed overnight, no driving.
Coyote Joe's. Weird that I would encounter biscuits three times in two days because biscuits aren't particularly Northwesty.
San Dune Pub. An oyster po' boy with local Willapa Bay oysters. See? New Orleans appropriation.
Little Big Burger. I completely forgot I ate this.
An Xuyen. Banh mi, only $1.49 more than the '90s. Best sandwich under $3. The owner/cashier was so damn chatty I thought the line of customers behind me were about to kill us, yet when I looked up no one gave a shit.
Pho Van. Part of a mini Vietnamese empire. Solid pho. No, I did not make it to Rose VL Deli.
Shut Up and Eat. My grandma is into this food truck-turned-brick-and-mortar restaurant and I'm half-convinced it's simply because of the name. The Italian sandwich contained a little more roughage than I'm accustomed to.
Ixtapa. The waiter was all, "I put habaneros in your food," I guess to get a reaction, but I was all "ok…" That's humor in Scappoose. The combos are crazy cheap and you won't feel weird for ordering a chimichanga. That's all you need to know.
Shari's. The last two times I've been (2x in one year is more than I'd been in two decades) they did not have my first choice or second choice pie. YMMV. They always have tots, however.