Eaten, Barely Blogged: Portland Barrage, Old-School Mostly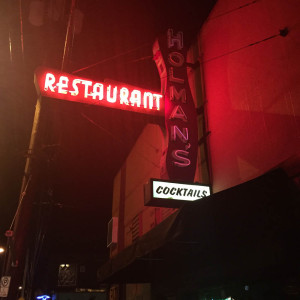 I started Portland with Burgerville, partially because I wanted a Colossal Cheeseburger (they aren't really colossal) for the road, but mostly because I needed to use a bathroom and the Beaverton location is sort of on the way between downtown, where the Bolt Bus dropped me off from Seattle and my mom picked me up, and her place at the coast. I was chided for not getting the seasonal chocolate hazelnut shake and I still regret it. Burgerville spread rules so hard they've jarred it.
In one afternoon-turned-early-evening, I hit three old-schoolers. Higgins, where embarrassingly I'd never been, for lunch in the back bar because I was too late for proper lunch. I know the burger is a thing, but I went for the smoked seafood plate (salmon that tasted like pastrami, cod with the texture of bacalao, and mussels) instead to not get bogged-down. You know there were hazelnuts in my salad. One thing about Portland is that the bread is often very good and when it is, it's frequently from Ken's Artisan. At 2:30pm it was all men, mostly 50-60, baseball cap (I keep picturing graying ponytails poking out the back but that wasn't true at all) and khaki types who have free time at an in-between hour. One said to the other, disparagingly, "I listened to an interview with this mediocre woman Elizabeth Gilbert" and then got distracted and never explained what was so bothersome about her. Supertramp played, a lot of beers were out of stock.
Then Veritable Quandary, also a never-been-before for happy hour. This was serious business because it is closing and seemed like one of those places, pretty '70s classic, all wrought iron, brick, and ceiling fans, that would be near the waterfront forever. When I'd browse the Entertainment Book as a kid for fun (so much fun!) it seemed like a very adult restaurant by name alone. VQ was bizarro Higgins as every single person occupying the bar at 4:30pm was a woman and many met my middle ages criteria by more than a decade. I made friends with a group that included a younger wine salesperson and homeowner who'd just kicked-out her long-term boyfriend whose child she was attached to for "not pulling his weight." My takeaway was less rah-rah and more oh, yeah, people in their early 30s don't live in apartments with roommates in other cities.
It was still happy hour after busing it to Paley's Place where I was just going to have snacks (rabbit and pistachio rillettes and pear mostarda) and a pear brandy cocktail and ended up staying for a full-blown plate of Wagyu ribeye with béarnaise sauce and a half-bottle of Bordeaux because I was enjoying the homey vibe (literally, it's in a repurposed house). Once again, it was all-women, all-ages at the bar, making me appreciate Portland's unexpected female-friendliness and wonder why NYC is so young and male. Previously on Paley's.
Koji, Japanese before everyone had an opinion on sushi and ramen, and was another nostalgia-free oldie. I never spent much time on the west side (there are also downtown and Lloyd Center locations) and not here, so the fact that the upstairs was now boarded-up with plywood didn't break my heart. The name emerged when I posted on Facebook about pre-millennium, still-standing Portland restaurants, a dying breed. It was suggested that I needed to visit. In fact, I would be treated. I didn't realize it was a date, though, and that I was being wooed with negamaki and temaki when I thought it was just two old friends who hadn't seen each other since 2009 catching up.
Pseudo-date part #2 took place at the Driftwood Room, an old standby that's a prime example of retaining charm and possibly improving even after properties change hands. The dark, smaller-than-it-appears bar works as well in 2016 as the good-times, let's-catch-up lounge off the lobby of the Hotel Deluxe as it did in 2004 when it was still part of the The Mallory and the drink so much spot with your sister on your final visit to your father that you missed the last lightrail, ended up at a closed Denny's on MLK Blvd. and hailing a cab on the street (not done in Portland) all the way back to Beaverton.
So what if I ate my double brie burger at Little Bird with a fork and knife (I do the same with pizza and will never stop). It's kind of a monster, stout and messy. All that mild, melted cheese gets cut with nice sweet-and-spicy pickles, then the whole thing gets riched-up again by the béarnaise aioli dipping sauce that comes with the fries. The $14 burger becomes a mere $5 between 10pm and midnight, though that corner of downtown isn't anyplace I'd find myself during those hours. Maybe you would?
I pre-gamed a little at Kachka with the most amazing matustake-infused vodka that tasted almost like dirty dark chocolate. (There may have also been a few ounces of horseradish and birch-flavored alcohol consumed.) I had a Tinder meet-up at Bit House Saloon across the street and wanted to squeeze in some happy hour snacks on a date with myself first. (If I were a matchmaker, I would've suggested this guy, who was easy to talk to, meet a recently single Portland frenemy I know from late '90s NYC because they would totally get along.) In a perfect world, I would've done the rabbit (not currently on the menu) and the zakuski experience, a slew of cold appetizers, but it seemed excessive for one. Turns out it was. A business-traveling Canadian who ended up sitting next to me did just that, though, so I got to sample some of that overflow (blini and roe, herring under a fur coat). Me, I ordered sour cream-doused pelemini filled with pork, beef, and veal and buterbrodi, smoked sprats and mayonnaise on toast that would almost be at home in a Basque tapas bar minus the rye bread. Russian food feels like an odd cuisine for hip treatment. That's not a complaint because at least it's something different. (Can this be where I broadcast my complete non-interest in food trucks and you call me pretentious?) Someone needs to come back with me on my next visit so I can have a grander meal.
I'm not sure if it's harder to believe that I had forgotten my old nickname for My Father's Place (just gonna say it, "Cum on the Grill," sorry, can't be a lady all the time) or that I continued eating there after learning about the deviant act that inspired it (as the lore goes, the cook, a friend of a friend of my sister's, was just sent home for the day not even fired). Whatever. I still stopped in for biscuits and gravy and a bloody mary just to admire the bar and grill's staying power on a strip that is all fancied-up with the likes of aforementioned Kachka, Bit House Saloon, and many more. You would think a place like this would serve a monte cristo, but no. I'm also pro-reuben, so it's ok. 
Nope, I'd never been to Besaw's either. How many Portland classics could one person miss in a lifetime? The closest I'd ever previously come to dining at Besaw's was when skipping high school during a very brief, unflattering Manic-Panic-priming blonde phase, smoking out front of the public library where I'd eventually end up working, a Besaw's line cook attempted picking me up by saying he'd make me something special if I stopped by. This was the second night in the new incongruous location at the base of a modern, new-construction building on the far eastern edge of Northwest Portland where you still can't find parking. I met a different old friend I had not seen since the '90s and we ate ok enough brussels sprouts pizza and fried chicken and waffles and she told me the stadium Fred Meyer had a bar inside where young people drank on purpose. We went and spied on them afterward. 
Holman's, where I drank many a whiskey sour in my day, got play twice in my week-long itinerary. First, because it happens to be across the street from Langbaan and two unrelated sets of friends met me there impromptu afterward after seeing my social media update, something that rarely happens in my NYC world. You can still spin the wheel near the bar to try and get a free meal. 
Then again my final morning while I hit the diy bloody mary bar and watched my rental car drop-off ride eat a taco omelet because I'd already eaten lukewarm steak and cold onion rings for breakfast because I hate wasting food even more than I love leftovers. 
A blackstrap molasses daiquiri was sipped at Angel Face, though after an edible at Holman's and a hit off a vape afterward (I'm officially uptight and East Coast because pot-smoking in front of bars just seems weird.) I can barely remember it or the cocoanaut at Hale Pele, also made with blackstrap molasses, oddly.
Apparently, I didn't seem sufficiently wowed by Koji (not true exactly) so RingSide was a bit of a do-over, explicit in intent this time. It was a real date in a real date setting, dim Instagram-unfriendly lighting and all. I can't recall ever dining anywhere in this city that employed a crumber (or a waiter you'd consider a devil's threeway with). I hadn't planned on this pricey-especially-for-Portland steakhouse during my visit, though it was definitely on my list of endangered species. Luckily after a 2010 remodel the wood booths and individual sconces were still intact. Single wedge salads are divvied into two and and plated nicely, no asking. Steak is a given, dry-aged New York here, maybe too the onion rings, served with a gravy boat's worth of house dressing, a genius Thousand Island-blue cheese mash-up that could only be born in a city of stoners. Why not throw in some lobster mashed potatoes swimming in butter and cream for good measure? No dessert, just an after-dinner manhattan. In the end, Old Portland will charm you. You might even fall in love.
On a Wednesday afternoon walk-by I was marveling that Saucebox, '90s pan-Asian with a DJ, still existed. Ok, I scoffed. By Saturday night (on the same block as Little Bird during $5 burger hours) I was getting a free drink (an Ankle Breaker) from a bartender I'm now Facebook friends with. That is Portland.
Somehow fittingly, Shari's near the airport was my last supper and was attended by more family members (ten) than I've seen in one place since probably a childhood Christmas. The last time I went to a Shari's, at a straggler Northern Californian location, was with members of the other side of my family that I rarely see so that's just how this local 24-hour chain is. A club sandwich isn't necessary (tots kind of are) but a slice of pie always is. 
I've come to terms with the fact that even fast food now tout seasonal and local items but a Porchetta Street Sandwich at Shari's is just something else.