Eaten, Barely Blogged: Los Angeles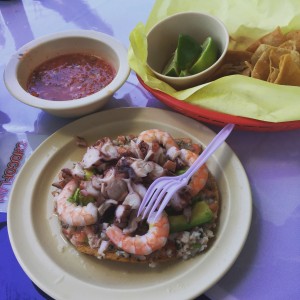 If there's one thing you need to know about dining in and around L.A.–or my version of it–it's that there are freaking bread bowls at Disneyland and eating one (stuffed with Chinese chicken salad, no less) was not even my own idea.  (You might also need to know that bread bowls have been my biggest summer 2015 obsession along with taco salad and that I wish I could get on board with pizza bagels but have no nostalgia to summon.) I would say that I could now die happy except that's never true. There's always another thrill to seek, another high to reach, and until you hit the next peak it's all ennui and dissatisfaction with life. All I've done during my past two days back is eat pizza and bacon, egg, cheese sandwiches and lay on the couch, dreading the start of my work week.
I didn't even peek at the boardwalk because I hate beaches and the NYC-level heat and humidity was dispiriting and the sun still managed to give me scoop neck tan lines just from walking 20 minutes back-and-forth from my parked rental car, but I did hit up Venice on the day Gjusta was declared the second-hottest restaurant in the country by Bon Appetit. So hot that Jake Gyllenhaal was sitting at the next table in the back patio with some young, sporty ladies with ponytails and discussing dieting, which supposedly he doesn't get, but of course he does.  (I was even asked if I was the actress in Fresno, which I later deduced meant Aubrey Plaza who I'm like twice as old and large as but at least it was a compliment and not an insult.) Sadly, there were no more much touted baklava croissants. I did try a smoked fish sandwich, which you can customize a zillion ways by fish type, schmear, bread, and toppings. This is classic cold-smoked lox with scallion labneh, the works (tomato, pickled onions, sprouts) on a seeded rye bialy. The perfect size really even if the salmon gets a little lost in all of the accouterments. Plus, minted limeade. There are also smoked meats, tons of baked goods, salads, shrubs, and nut oils that all manage to read as healthy, despite not being particularly so, and served in a washed-out, spacious beachy version of woody Brooklyn rusticism that equals L.A. Charming, for sure, but a destination? I don't know. 
Sapp Coffee Shop. Sure, we've got boat noodles in NYC, and walkable from my apartment even. It's just what I woke up wanting one morning. (I do regret not having time to make it to Luv2eat Thai Bistro for a wider-ranging Thai meal.) This little restaurant in a strip mall is known for its #3 among other soups, a beefy hodgepodge of meatballs, liver (the dominant flavor) tendon, demure strips and big fat gelatinous chunks that I love, and tripe in a tangy, lightly sweet broth tinged with blood. Oh, and chicharron just because. There's a lot going on and it totally works. My request for spicy wasn't taken seriously but I won't hold that against Sapp. That's what condiments are for.
I didn't want to O.D. on Shook/Dotolo restaurants but I had a free night and Animal was just five blocks from my Airbnb rental and walking can feel like a novelty in L.A. (and I'm not ashamed to admit that I completely fell back in love with driving after 17 years of car-less-ness). Also, the boat noodles breakfast clearly didn't scratch my itch for offal. The hamachi tostada with fish sauce vinaigrette, peanut and avocado looked a little overwhelming and one-note but ended up being a total surprise with each bite being a little different and completely balanced, just acidic enough, buttery, with hits of an anisey basil. If I knew this was coming out first, though, I probably would've ordered a fuller bodied wine than the rose I started with. The crisp, bacon-like pigs ears with a housemade Sriracha, lime and egg, played with a similar rich and tart, vaguely Asian profile. Veal brains were totally different, light and paired with vadouvan, apricot puree and carrots that had an unexpected  candied, gingersnap flavor that matched really well with the Chenin Blanc I was given a nice pour of. I rarely order dessert alone but wasn't ready to call it quits, so there were yellow peaches, mochi, brown butter ice cream, and chartreuse that also made perfect sense with the remaining sips of wine.  Music side note: Missing Person's "Walking in L.A." was almost too perfect but it was "Age of Consent," the New Order song that always induces the most feeling of all feelings (I've taken to playing it twice in a row on my morning commute as a distraction from the 7 train's occasional too-muchness) that certainly caused me to bump up my tip as it came on while mulling over the bill.
Shabu Shabu House. In a sense, this style of Japanese set menu cook-your-own meat is the antithesis of Chinese hot pot. There are no choices to be made beyond medium or large (this is a medium). Everyone gets thinly sliced ribeye and the same plate of cabbage, tofu, noodles, carrots, enoki mushrooms, and seaweed served with ponzu, sesame sauce, and a garlic paste with the world's tiniest metal serving spoon tucked into the container. It's simple and it's great. This small shop in Little Tokyo, where I'm pretty sure there is always a wait, also holds claim as the first shabu shabu restaurant in the US circa 1991, which seems slightly incredible but I'll believe it. I'm also partial to the cook wearing shades indoors.
B.S. Taqueria I'm sure is great but I initially missed lunch because it closes between 2:30pm and 5:30pm and when I finally made it downtown at the right time, realized the hyped clam and lardo and bologna tacos are only served at dinner. Then the parking garage I used to see the Los Angeles Public Library exhibit "To Live and Dine in LA," which was meant to be $1 for the first hour, ended up costing me $45, an error that still has not been sorted out, so these lengua tacos are tainted in my mind.
The age-old complaint with solo dining is the inability to try as many things as one would like (without throwing food away or throwing it up) so I missed the tacos dorados with shrimp, served at both Mariscos 4 Vientos and Mariscos Jalisco in Boyle Heights. Instead, I just had a mixta seafood tostada, a big pile of lime-kissed shrimp, octopus, crab, and avocado, at the former (sit-down restaurant, not the stand). These are not highly spiced like the red and green aguachile tostadas–you must add your own salsa as needed. 
E.P. & L.P. I can never keep which is the restaurant and which is the roof lounge straight. I just had drinks and snacks at the bar (L.P. fwiw). The wings and fried seafood bits were nothing special but pre-batched cocktails like the Kriss Kross (gin, kaffir lime cordial, cardamom bitters, Indian tonic boba pearls) were fun but not unsophisticated–and more importantly, tasty. For being a Saturday night (though early) the crowd was surprisingly mixed and if I were doing a Middle Ages post, there would be plenty of 40+ fodder, weird fodder wearing expensive loafers and velvet blazers and their age-appropriate lady-friends. I didn't do a lot of L. A. cocktail cruising (partially because I was hanging out a lot with a non-drinker) so I have no idea if this is norm or not.
In-N-Out. You just have to. I did even after being admonished for not trying home-grown Tommy's (I don't like chili!) and even if I'm being honest and admit that Shake Shack (coming to L.A. in 2016) has a slight edge meat-wise. It's about the melted cheese and oozy condiments melding together between slightly sweet buns. A total fast food sucker punch. I slightly regret not getting animal-style fries, but couldn't justify the extra 1,ooo+ calories.
Ok, and a dinner at Petit Trois, also on Bon Appetit's hot list (#3), where no reservations worked in my favor. (I wanted Trois Mec but could only turn up tables for 2, 4 and 6 via its competitive online ticketing system, which made me feel discriminated against as a solo diner and wonder if the same no odd numbers thing that worked against me at Alinea was occurring.) The cocktails were great: Soleil Fumé read well on paper (mezcal, lime, grapefruit, Aperol) and translated beautifully both visually and by taste with its tougher-than-it-looked bitter, smoky flavors. It turns out, that the snackier plates are where the tiny restaurant excels (it also didn't help that I'd eaten a Double Double just a few hours prior). The escargot, with their retractable metal holders, digging implements and floury french bread perfect for soaking up the parsley-flecked garlic butter, were spot-on while the confit fried chicken with an acidic frisee salad and overwhelmingly peppery steak au poivre weren't all that exciting. And maybe that's the point? Bistro classics, tiny tweaks, simply done? The chocolate mousse, on the house, was deep, rich and a welcome over-the-top meal-ender that signaled the end of my last supper. Goodbye, L.A.
Oh yeah, there was Sizzler, but Sizzler is too big to be contained in a "barely blogged" post.