International Intrigue: Uncle Sam's Burgers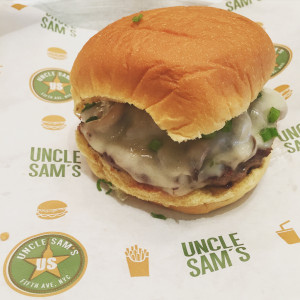 Close to a year ago, Uncle Sam's was being touted as a coming attraction. A burger chain rooted in Beijing? I was sold on concept yet not fully convinced since I couldn't find any evidence of such a creature existing in China. It turns out, two did open in Beijing but not until six months after the announcement, which still makes me suspicious. (I would love it if the Australian rules footballs being used as a decor element in the Chinese shops instead of American pigskins was a brilliant faux-naive marketing ploy.) Would an impending NYC branch somehow make the restaurant seem more legit on its home turf?
Uncle Sam's opened to little fanfare in May, along a corridor of Fifth Avenue that's home to other foreign imports like popular Korean fried chicken chain Bon Chon and lesser known Turkish cafe Simit Sarayi. It's not particularly obvious that this isn't a homegrown establishment. There are wacky Asian-tinged combinations like the 888 Burger (shumai patty, Canadian bacon, char-siu and Sriracha mayo) and K-Town (galbi beef, kimchi, white American cheese, spicy black bean mayo and pickled daikon) in the current more is more style, cold brew coffee from Kopi Trading Co., a kale side salad, and a soundtrack piping in Matt and Kim (followed by samba and reggae). This may as well be Brooklyn.
And that's the genre it traffics in, at least from a price perspective. With the specialty burgers ranging from $7.95-$10.95, sides extra, it's an expensive proposition for an unproven brand with beef of unknown origins. That said, it's fun, and you can do worse in the tourist-heavy zone flanking the Empire State Building.
I went with the relatively demure Signature, which is more or less a Swiss and mushroom burger with scallions and oyster sauce, because at 11:30am, still my breakfast time, and anything bolder seemed untoward. The burger was larger than a fast food version but still petite, and a total umami bomb with deep, concentrated double mushroom flavor and slight nuttiness from the soft blanket of melted cheese. You can spruce up as you like from the selection of Lee Kum Kee condiments, nearly all untouched, foil seals intact.
The Sichuan chili, pepper jack cheese, and sriracha mayo-topped tater tots and sesame miso caramel milkshakes will have to wait until a later hour.
Uncle Sam's Burger * 307 Fifth Ave., New York, NY