Shovel Time: Momofuku Ko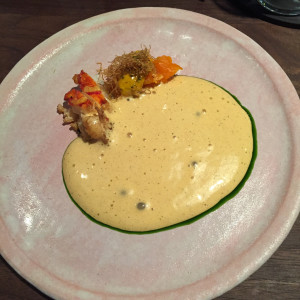 Others might get shocked into acknowledging the passing of time when seeing kids, maybe on the occasional holiday, markedly older and bigger. I get a reality check when I realize how infrequently I revisit restaurants.
When asked if I'd eaten at the original Momofuku Ko, I answered naively, "Oh yeah, when it first opened."
"So, seven years ago?"
Er, closer to six and a half, but ugh, yes, I guess so. Those toddlers would be third graders now.
It's slightly odd that I would go to both iterations of Momofuku Ko in its early days because I'm not a Chang fanatic in any way. (I've only been to Ssam Bar once and just for lunch.) It's happenstance. In this case I was looking for an extravagant holiday dining experience on short notice (Eleven Madison Park was booked, Blanca was available) and ultimately counter seating is more conducive to solo dining.
Or so they say. It is slightly jarring when 97% of a restaurant's clientele is made up of 29-year-old couples. The imbalance was neutralized and then some when I realized that the teenage boy and parents who had been seated on our shared corner weren't VIPs but the visiting family of one of the chefs, Ecuadorian living in China, who were finally getting to see what he does first-hand. Those 13 cocktails, wines, beers and sakes certainly helped smooth my jagged edges, but my heart had grown maybe two sizes after observing such pride and appreciation.
What's different? Well, it's been a while. The space, clearly. I prefer a little more distraction, less intimacy, and that's the case with more seats and a very open kitchen. The approach feels less precious and more luxurious at the same time. The backed stools are plenty comfy for the gramps in your party, and I didn't even notice the music this time around, though I do recall going from liking to not liking over the course of the evening. Something distressingly close to world beat crept in.
March 2008 was the pre-SLR days (and pre-camera ban, as well). Now I'm living in a post-SLR world where everyone, not just food bloggers, snaps photos of what they're eating, whether movie theater nachos or an acai bowl. Taking pictures of your food is now right up there with brunch, avocado toast and pumpkin spice lattes in its basicness. I've come to rely on a phone, myself. It just feels weird to tote around a camera in NYC now, even one small enough to fit in my purse. These photos don't pretend to be anything they aren't.
The meal was kicked off with a so-called grape soda that tasted like grape candy in that way that Concord grapes do and an aperitif (verjus, cappelletti, soda) that was also grapey but stiffer and more bitter. A tartlet, half-filled with chewy sopresatta that looked like tartare (my neighbors exclaimed "picante" but the spice was just an undercurrent) and lobster paloise followed. Apparently, paloise is a Béarnaise that uses mint. More apparently, I have a grotesque palate because my first impression was that of cream of mushroom soup. And then, a vegetable roll.
Mille-feuilles (and matcha) are going to be a bigger thing in 2015, aren't they? This savory version made from rye flour with trout roe and green tea powder had an earthy, burnt flavor–intentionally, I'm assuming–that I'm not sure I loved.
What stood out in this tartare were the bright pops of flavor that came from finger limes.
The dashi was both saline and fruity sweet and stood out even more than the scallops while sipping it from the bowl after they were gone.
Much raw seafood. This incorporated what thought were banana blossoms but are actually ginger buds, which made the dish read Thai to me despite the soy and more delicate flavors.
I haven't discussed beverage pairings because at some point they start blurring together. The beets, brightly acidic, fishy and packed with umami were an inspired match the Goose Island Lolita, a tart wild ale aged with raspberries–and this is coming from someone who thought most of the sour beer pairings at Luksus were too sour. I don't know if I would find this dish as dynamic without the beer.
One unanticipated side effect of opting for the pairing (something I hadn't originally planned on) while solo dining is that I started falling behind, a surprise since keeping up my drinking has never been a problem. It's that you're not talking while eating and taking those pauses and sips.
One bite was not possible, despite the instructions. The rice had chewy, molten bits like the socarrat that forms at the bottom of a  paella.
The hyper-smooth trout was more akin to pate, but once again my brain immediately shifted lowbrow and imagined the pink slabs would taste like  bologna. Maybe I was just ready for something heftier and less precious at this point.
Oh yeah, like the bread, a warm sourdough with radish butter.
This was a riff on the soubise dish of yore, eggs now fluffed rather than precise and runny-yolked, the potato chips more of a crumble.
During this course one of the male youngsters asked a female counterpart "Are you going to be OK with it not being egg whites?" And then I snapped both their necks before he could continue on about wanting two kids and any more than that being "up to the uterus I'm with." No, no, I just diverted my attention back to that nice bread and my glass of champagne (Suenen Blanc de Blancs Grand Cru) and remembered that no conversation has its perks.
I'm always indifferent to pasta, then blown away by renditions like this agnolotti. Crisping the truffles was a bold move and the resulting nuttiness stood up to the tandoori spicing.
The halibut didn't really work for me. The flesh was watery and increased the sensation that I was eating cheese sauce (bizarre because processed cheese is practically what gets me out of bed in the morning) not uni. What looks like black pepper was possibly pulverized bits of char–or possibly something else completely.  I know this dish was on the lunch tasting menu at one point, so clearly someone demanded its comeback.
Then, boom. It was back on. If I were asked (actually I was asked upon leaving) about my favorite dish, this would be the winner. I don't know exactly what is going on here to create such intense flavors. The lobster sauce is rich and buttery and hides a thin layer of parsley oil while the sweet potato is very present but not cloying. The tails, themselves, are a highlight. The crispy nest is a mystery.
A classic. The thing about this snowy shaved foie gras dish is that I certainly remember it from my last visit, everyone seems to, but the version I tried those six-plus years ago didn't contain the pine nut brittle. That little extra completely changes the texture and adds a different type of sweetness than the lightly perfumed lychees or sharper gelee.
The meaty course was just right. The portions seemed spot on,  fatigue never set in and by the last savory dish I didn't want to die. And that knife!
Mignardises being assembled.
Clementine sorbet and Campari as palate cleanser.

The showcase dessert was light and tropical, topped with a rum-infused meringue.
I was excited for the canelé that I had seen prepped earlier. The macaron was made of chickpeas and miso.

I couldn't think of anything obvious or major that I would change (feedback that was solicited). My only request would be a selfish one and that's the option for a shorter tasting. I'd like to return before 2020 (you know, when those grade-schoolers become freshman) and a smaller commitment would ensure it.
Momofuku Ko * 8 Extra Pl., New York, NY