Soup's On: 8 Paet Rio's Kuai-Tiao Neua Tun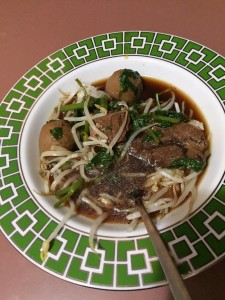 This is one of those dishes that's Thai in name, but Chinese in origin. In the US, the closest commonly eaten thing to kuai-tiao neua tun would likely be pho.
It's a rice noodle soup that's rich with beef brisket and beef balls with a more mousse-like texture than a typical Western meatball. There are some bean sprouts and greens for contrast, but that's the gist. I'm eating it here with more stuff and less broth than how it would be served in its entirety in a bigger bowl.
The broth is sweet (I'm nearly certain it actually contains sugar) and aromatic with cinnamon, ginger and star anise. It's also pretty bold and salty from the inclusion of both soy and fish sauces. This may seem like a wet soup on the surface but if you refrigerate it, the liquid will solidify into a gelatinous mass. The collagen is why it's so satisfying when it's cold out and maybe you're a little run down (or maybe said "yes" to more than one shot of Fireball Whisky at a holiday party).
What I'm not clear on is the intended spicing. As with pho and a noodle-free version of this soup from Qi, the flashy Times Square Thai restaurant with some genuine dishes that I frequently eat for lunch, I had assumed this was a simple beefy soup that you could jazz up if you liked with condiments. However, this iteration arrived already hot in that throat-tickly way that's induced by powdered chiles. Maybe I was being second guessed because I also ordered my duck larb very spicy? Either way, this is a very good soup.
P.S. I apologize in advance for this bowl, which you're probably going to see many times because I'm big on delivery and am not a food stylist with cupboards full of props.
8 Paet Rio * 81-10 Broadway, Elmhurst, NY