Shovel Time: The Gorbals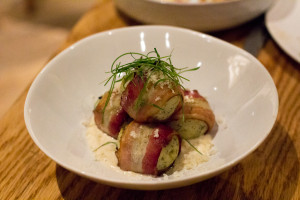 I've lost all ability to gauge what others will find compelling. My call for birthday travel mates to the Aqueduct casino fell flat (I decided to just take myself out to Bâtard) yet an equally arduous journey to Forest Hills to sleuth out the Northeast's only Sizzler has generated interest. The Gorbals on opening night was also not a strike out.
Who wouldn't want to eat in the nation's coolest Urban Outfitters that's barely an Urban Outfitters. Space Ninety 8 could be described as a concept store. Or it could be described as "More Anthro. More Curated," as a sales clerk was explaining to a customer. "We don't have sales," he added.
That means you'll weave past the macramé dreamcatchers, white lug-soled sandals, one size fits most Eileen Fisher for millennials linen shifts, and Japanese lip balms in containers camouflaged as fruit. All of a sudden a bar appears on the horizon of the men's section on the third flor. Take a left and you're dining in-store next to an open kitchen.
On the early side, the restaurant was populated but not at capacity; there were enough free seats to cause arrivals to balk at sharing the communal table in the back. The crowd was also slightly older than one might imagine, and by older I just mean over 30 with a sprinkling of the truly middle aged. (I went for a beer afterward at Iona and there was not one person over 24–or wearing a bra–in the back garden.)
I was expecting small plates, and for the most part they were. Not so with the banh mi poutine, total blogger bait which appeared first, unbidden, and was appreciated all the more for it. I wouldn't describe this as tasting like a banh mi, though. The rich hunks of pork adhered to the fries and pickles with melted cheese kind of translated as cubano. Regardless, I couldn't stop picking at the delicious pile.
Falafel-crusted lamb sweetbreads completely made sense–even the subtle ranch-flavored hummus didn't seem out of place. What is ranch anyway but buttermilk and a dill-heavy herb-blend?
I didn't catch a photo before the "Jewish lunchbox" was shook up in front of us. This was the least successful dish, perhaps because the barley posing as rice was lukewarm. Timing was a little haphazard, but I won't begrudge anyone on their first night. Gefilte fish holds no nostalgia for me, though I can appreciate a spongy fish cake, a nice runny egg yolk and kimchi (with more of that dill).
You should order at least one vegetable. Carrots, shriveled  with a velvety texture, come with nearly candied brown tufts called almond cake that based on color and the dish's vaguely Nordic vibe kept signaling rye to my brain. Not rye.
The friend who had taken me out couldn't decide if the bacon-wrapped matzoh balls were a "dick move" or not. A dick move that got slightly neglected because they came at the end of the meal and were a little heavy (I blame the poutine) even if the horseradish sauce livened them up. These might work better as bar snacks.
I guess this is L.A. food, though it feels just as much like Brooklyn food. The "Barn" section of the menu is where the fun is concentrated, and I would characterize this food as fun. In many ways, it's less serious than the merchandise on the floor. Nothing is outrageously priced, nothing is overly precious. I guess fun is pretty subjective? (says the person who wants to spend a summer day playing Keno in a dark, smoke-filled space). The talons attached to the schnitzel were causing some commotion; one had to be sawed off at the table before the woman would accept the plate and another diner requested the gnarled chicken foot be removed before leaving the kitchen.
The Gorbals * 98 N. Sixth St., Brooklyn, NY