Six Cuisines in Five Hours: An Old Dubai Crash Course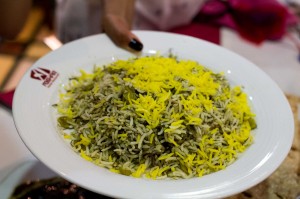 Four hours,  forty-nine minutes and thirteen seconds spent sampling food from all ends of the Middle East does not an expert make, but it's a pretty good crash course, nonetheless. Beyond the obvious Levantine favorites like hummus, tabouleh, shawarma, and a few long ago forays into Atlantic Avenue's Yemeni restaurants, I'm stunted when it comes to regional specialties.
Dubai is funny in that there are still perfectly accessible vestiges of the pre-glitz era, entire neighborhoods even. Just cross the creek into Deira and you're in the Queens of the Emirate. Any eating that required being outside for more than three minutes was nixed on my previous Ramadan-hindered visit, which meant no strolling and no chowhoundy missions. Plus, who has an appetite when it's 112 degrees? (Boo to Celsius. Tell me it's 20 degrees or 40 degrees and I'll comprehend nothing.) Even during the winter there aren't many pedestrians minus the occasional sun-burnt Brit. Lest you think I exaggerate, the bus stops–many sponsored by Tim Hortons–are air conditioned. I've yet to master exposure on photos in the dark with bright blown out signs, so evidence deleted.
Arva, a food blogger who grew up in Dubai and still lives in Deira, started a food tour business called Frying Pan Adventures this year, and it's become popular for a reason. While I've always shied away from guided group activities while traveling (and in life, generally) it's very useful in a city where it's easier to read up on ventures by '90s chefs like Gary Rhodes or find the latest American import than where to get the best kunafa or find lesser known items like Iranian sangak.
Stop #1: Qwaider Al Nabulsi
There's a little bit of everything here, including familiar falafel a.k.a. normal falafel as per the menu, plus a hot dog sandwish [sic] which sounds like a plausible dish in the desert.
Falafel mahshi is sesame-crusted and stuffed with onion and chile sauce. The beautiful green guts are derived from parsley and cilantro. (I also refuse to say coriander–or capsicum, for that matter. Modern as it is, there's a lot of respecting culture that must be done in Dubai, so I cling to my provincial food terms and weights and measures for comfort.) At least I think it's herbs responsible for the color, not favas.
I've never had a foul medames (Egyptian, here) that tasted so much like refried beans. This olive-oil fava mash spiced with cumin would've worked just as well with tortillas as pita. The tatbeela, hummus flavored with more cilantro and parsley, plus green pepper, got destroyed by the time it reached me.
Lamb mansaf is a Jordanian dish served jameed, which if I understand is a sauce made from salted laban (yogurt) that's been dried for preservation, then reconstituted. There's a lot of dehydrating and reviving and coaxing flavors from unassuming sources.
Kunafa na'ama is a sweet and rich cheese pie soaked in syrup and topped with shredded kataifi. Perhaps you've seen Turkish versions in NYC. I'm sure there are subtle differences. Middle Eastern desserts rule because they refuse to hold back on the sugar, butter and fat. I even started getting into the rose water when normally flowery flavors unsettle me a bit.
A giant pan of oozing kunafa looms large on the sign, so you have to order it.
Stop #2: Al Samadi Sweets
The kunafa was just the beginning sweets-wise. This Lebanese shop had pan after pan of treats rolled and sliced into squares, many encompassing pistachios.
Of course, there was baklava and kin like bukaj (right). Lesser known was the halawat al jibin, semolina cheese dumplings filled with cream and adorned with candied rose petals. I would love to find these locally.
Possibly the weirdest and coolest thing I encountered was natef, a marshmallow-like meringue that's made from a root called soapwort. Vegans should totally get on this if they aren't already.
Stop #3: Asail Al Sham Sweets

Boozah is stiff, taffy-ish Syrian ice cream that's pounded with a big wooden stick resembling a butter churner. The dense, less melty texture is more akin to kulfi than ice cream. In fact, there's a video on Gawker today showing how pliable the Turkish version of this ice cream is. Thankfully, this presentation didn't involve roping in bystanders with tricks.
National Day cake.
Stop #4: Soarikh
Egyptian fateer is a thin wood-fired pastry that in this case was stuffed with ground lamb.
You can also get it with the white processed cheese that I love so much and could see on the counter with a knife handle sticking out. Of course I asked about it, but Arva didn't think most food tourists (for what it's worth, the other attendees were Austrian and Singaporean) would appreciate being served Kraft spread in a cultural outing. Hey, it's authentically Dubai-ian. My friend was nearly proposed to, but unfortunately she exceeded the marriageable age cap of 27 set forth by the fateer-maker.
Stop #5: Al Tawasol
Tent dining, chair-less and with fingers as utensils. Though none of these restaurants served alcohol, it was clear that our tent neighbors, speaking a loud incongruous mish mash of Arabic, English and Spanish, had consumed something  because there's no way that laban, the cooling yogurt beverage we were drinking, could've triggered so much raucousness. Who needs to pre-game (the solution I learned to adopt on occasion) when you can sneak sips in a tent?
The Yemeni chicken was served two ways: mandi (roast) and madhbi (grilled) along with lamb madfoon. The food was straightforward and simple, especially in contrast with the final stop (below), though probably more elaborate than if you were genuinely dining like a bedouin.
Stop #6: Abshar Restaurant
If there's anything that I want to learn more about it's Persian food, and I suppose, contemporary Iran. (That secret CIA spy story made wish I had done a day trip to Kish even though it sounds not all that fun and kind of intimating. I'm also trying to figure out why French was being spoken in the Homeland finale because I didn't even know that was a thing. However, I'm not sure that I'm intrigued enough to start watching Shahs of Sunset regularly.) The cuisine is not part of the hummus, pita, baba ganouj canon.
Sangak is a freshly baked bread done in a stone oven. It's not all for show; it's amazing. We'd been instructed to snack sparingly to reserve space for all the stops, and I'm glad I did.
The bread gets cut into more manageable rectangles and put into a basket while still warm and pliable. The flatbread is less fluffy than naan has more of a toasty quality that's amplified by the sesame seeds.
You can put cheese, walnuts and a mix of greens, predominantly rayhaan, which we would probably call holy basil and is also known as tulsi, on the sheets of bread and roll up into a wrap that's the antithesis of office lunch turkey and Swiss. I just read that there's a place, Naan Hut, in LA that makes a sangak pizza. I want this.
Persian food is known for being a little show-offy and baghali polo is a good example. Plain basmati rice would not suffice. There is also saffron, supposedly a Persian claim to fame (Hungarians would beg to differ–how many countries tout their saffron superiority?) as well as dill and fava beans, creating a colorful blend of earthy greens and yellows.
The savory rice practically upstages the maahicheh, a stewed lamb shank commonly paired with it.
I preferred the gormeh sabzi, a stew of lamb, kidney beans, much cilantro, parsley and spinach that's flavored with fenugreek and dried Persian limes. It's a little reminiscent of a saag paneer minus the cheese and maybe even minutely like gumbo z'herbes (minus any pork, of course).
DIY faloodeh. Just put some saffron ice cream on chilled vermicelli and drizzle with lemony sugar syrup or rose water syrup or both. Somehow this dessert makes more sense when it's sweltering and you're sitting outdoors.
That was a lot of food in a relatively short time frame, and perfect for most visitors who tend to only stay in Dubai a few days (the Singaporeans were about to spend weeks in France and Italy while the Austrians had just came from Hong Kong and Thailand–foreigners and their free time make me want to scream).
Howling stray kittens (locals really don't care for cats) reap the benefits, too.
P.S. Websites are nearly as non-existent as addresses in Dubai, so I've linked to most of the restaurants' Zomato (kind of the Yelp of the UAE) profiles.