That's BREE-osh to You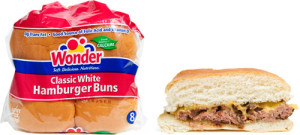 According to USA Today, unlike those white bread boomers, millennials are demanding "unconventional bread options" for their burgers, and fast food chains are happy to comply.
"For those who can't pronounce the word, it's BREE-osh, a light, slightly sweet French bread that's made with milk, eggs and a rich yeast dough."
The beauty of being part of a generation that slacked so hard we ceased to exist, at least to marketers, is that no one gives a rat's ass if I eat my burger on a multigrain bun, Hawaiian bread bun, chipotle-studded bun, pretzel bun or even on brioche, however the youngsters pronounce it.
"Millennials need to have something that says who they are — uniquely them. The more unique the better — hold the raisins."
I could also eat raisin bread and not let it define me. Or maybe even Craisins, a dried, sweetened cranberry introduced by Ocean Spray in 1993, likely to target boomer moms rather than Gen Xers hitting their peak sell-to-me years. Craisins are pronounced like cranberry minus the ranberry plus raisin.