Revving Up
"All the motivation in the world is nothing without the right energy." –Hormel
So true. I fear that the only thing keeping me getting off the couch on a sunny Saturday afternoon is a refrigerator lacking in Revs,
Hormel's new packaged food item that seems like something I would make if too lazy to go buy groceries or late-night drunk when the only thing open is San Loco.
(After a 4am dinner of cheese and crackers, this morning marked a new low–or is that high?–in laziness: a bagel breakfast sandwich ordered through
Seamless.) The angle being pushed is not just convenience, but protein, a recent American obsession on par with gluten avoidance. (Don't just take it from me–57% of Americans are trying to buy packaged foods with more protein, according to a 2013 International Food Information Council Foundation survey.)
I only became aware of this snack that seems better suited for a gas station store shelf while at a suburban Target with a substantial grocery section (that still feels weirdly off-brand for me). Oh, so they're selling a tortilla stuffed with lunch meat and a slice of cheese for $1.99? Ok.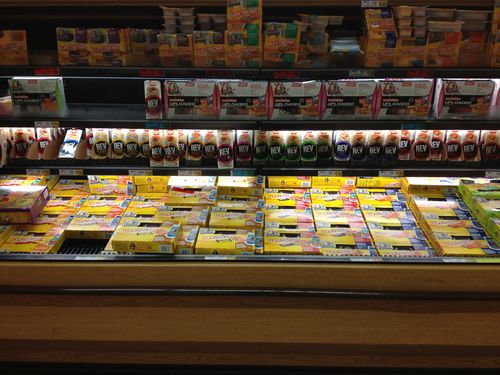 It didn't make a full impact until an hour later when faced with the full line of eight Revs, displayed between every iteration of Lunchables at Wegmans. This is really a thing. Perhaps Hormel wanted to bank on the success of the McWrap but found the lettuce, cucumbers and sauce too complicated? Millennial bait? And I thought Hormel reached peak genius with Compleats.
I only regret not springing for one. I've yet to see Revs in the wild in Brooklyn, at least not at C Town.
Update: Revs are indeed at C Town. At my local there is a small row of four right before the register with the prepared sushi and salads that I've never seen anyone buy. Only two for $3 too. I still didn't buy one.