Kødbyens Fiskebar

Kødbyens Fiskebar may have won for prettiest plate
of food. The seafood restaurant in the meatpacking district (the name
translates to Meatpacking Fishbar) another Noma alumnus project, was also my
first night safety pick  I like having a
non-elaborate, no reservations required option
within walking distance in mind for my first night in another city. I'm just
not a serendipitous traveler. Even though Fiskebar was just around the corner
from my apartment, it didn't pan out because that initial evening because it
was closed for a staff function.
I went back five days later, on my own, despite my
irrational aversion to solo dining. There's a 
prominent bar in the center of the room for walk-ins and it's not really
a big deal. I got my glass of French rose (American wines of any style are just
not a thing in Copenhagen) and settled in among the other tourists eating
alone. Midlake, a band I hadn't thought of in some time, played
"Roscoe" quietly over the speakers, and for a second I was lulled into
thinking I was in Brooklyn.
(Unlike Brooklyn, they take reservations and credit cards,
both with weird caveats. I was hesitant to use a credit card since ours don't
have chips and PINs and get rejected by machines, but also because most menus
had a blurb about credit card company fees being charged to the card. You are
also given a two-and-half-hour time limit at most restaurants, even the Michelin stars, when you book.
I'm trying to decide if this is a matter of transparency, rigidness, or
literalness in the Danish character and how it connects to being the happiest
people in the world.)
It's one of those casual restaurants with high
quality ingredients. Despite the relaxed atmosphere, quality does come at
a price, especially if you hail from somewhere with an unfavorable exchange
rate. At home I'm surrounded by $1 oyster specials so I'm warped; even on the
high end a Belon might be in the $4 range, so $7-$10 oysters felt punitive enough
for me to pass. Then again, I've never tried an Irish (Ostra Regal) or French (Roumégous,
Gillardeau, perle blanche) oyster so I could very well be missing out.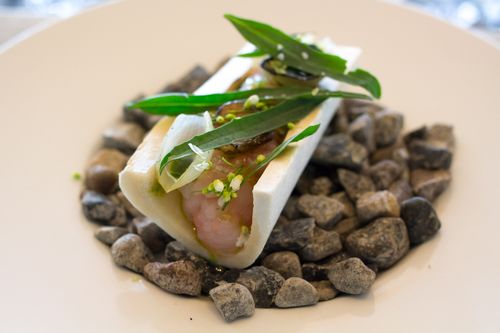 The Norwegian langoustine tartar was very delicate,
so too the ramson a.k.a ramps and its flowers. Smoked bone marrow was mixed in
with the fluffy raw shellfish and the pickled onions were blackened, creating a
striking flavor combination based on char. Something was also contributing
bursts of citrus.
Scallops, also from Norway, were just one part of an
intense spring tableau. I have no idea where the granola from the menu
description comes into play, but the peas, pureed, whole, shoots and flowered,
definitely stood out, sweetly. Capers added zing to a dill dressing and the morels
grounded the brighter components.
I debated a third dish and then frugaled out. My
most favorite food cliché is the Big Mac supposedly needed after a fancy meal,
often a tasting menu. I'm not sure that two small plates (technically, these
fell under the raw bar and medium courses from the hot kitchen categories)
qualifies, but I did get a shawarma an hour later.
Kødbyens Fiskebar * Flæsketorvet 100, Copenhagen, Denmark