Genting Palace

Similarly to how interest generated by Bun-Ker has
nearly as much to do with its oddball location as the food (I'm partially
guilty), the dim sum at Genting Palace inside the aqueduct "racino" garnered
a spurt of attention when it first opened. I do love a novelty (and spending
warm summer days indoors) though sadly, the food is nothing more than average.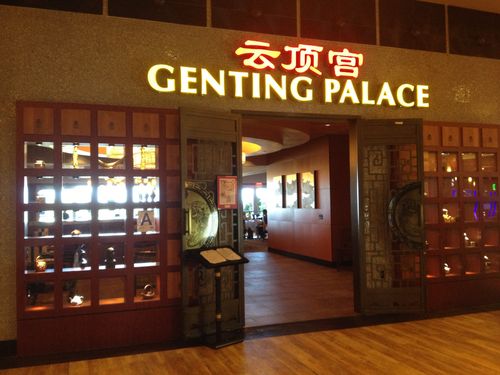 What it does have going for it is the $9.99
all-you-can-eat lunch special. I mistakenly ordered a la carte because I wanted
to try more than the limited greatest hits (shrimp dumplings, egg rolls, spare
ribs, etc.). This meant that it took an hour to get five dishes, one forgotten,
each one trickling from the kitchen with gaps in between because the focus is
on bringing out the cart periodically, not cooking to order.
Service is well-intentioned, in the pull out the chair,
place napkin on your lap variety (you won't be given chopsticks or tea automatically
if you're not Chinese; about 60% of the diners are) but harried and forgetful.
One table barked at a server after apparently waiting 20 minutes for ice cream.
It's classy. You can drink Chardonnay (or a blue
cocktail)…
…while gazing at the race track.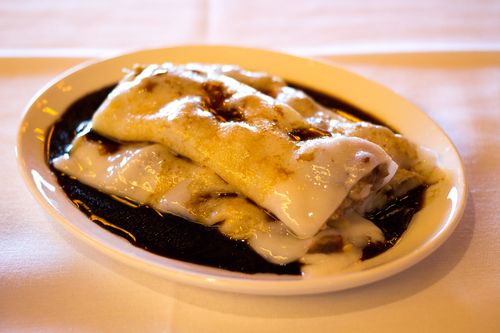 Rice rolls are always a good start and I didn't even
mind eating these with a fork since I've never mastered the art of cutting into
something slippery and dividing with chopsticks. These were filled with
barbecued pork and enoki.
The shrimp balls coated in black and white rice a la
porcupine meatballs were ok, if not a little dense.
Oddly, I've never had such a disconnect, even in
non-English-speaking establishments, between what I thought I was ordering and
what I got (well, except when I got flower petal Jello by mistake at Tim Ho
Wan). I accidentally ordered the same balls wrapped in fried taro strips. When
I read fried taro dumplings I imagined lacy, creamy lavender wu gok. I was so dismayed I forgot to take a photo.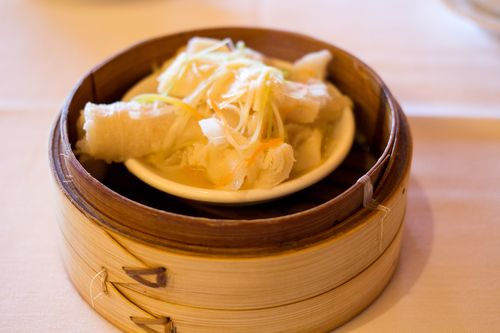 We were steered away from beef tripe, simple,
steamed with ginger and scallions. It wasn't the chewy, fatty cut I expected,
but the stiffer white variety, omasum, you find in pho. Still likeable.
I almost just grabbed a steamer of pork buns off one
of the carts after giving up on their arrival. These were the fluffy split
top-style, and yes, I was craving something else, the sweet, shiny baked
version that I later noticed was listed incongruously with desserts like the durian
puffs and egg tarts. I wasn't about to ask for something different at this
point.
I wish I could've gotten the crab rangoon from the sports bar menu.
Clearly, I'm not much of a gambler. I came away with
16 cents (after losing $24.84).
Genting Palace * World Resort Casino, 110-00
Rockaway Blvd., Ozone Park, Queens