Chao Thai Too & Zabb Elee

Chao Thai Too and Zabb Elee are both Queens Isaan
offshoots. Not so long ago, Chao Thai spawned a second larger location in
Elmhurst while last year Zabb Elee made the leap all the way from Jackson Heights
to the East Village. Both are far better than average.
Chao Thai has always been my favorite Sripraphai
alternative (Ayada is in that pantheon too, but I'm less fanatical about them
then others) even though there's that one server who's smarmy about not giving
you the requested spice level. I was hoping he'd remain stationed at the
original, but there he was at the highly staffed Too (though oddly, not taking
orders).
The menu is bigger and now formally includes a lot
of the dishes that used to be on hand-written scraps of paper taped around the
room. At the old Chao Thai their take on the crispy watercress/morning glory
salad was always mysteriously unavailable even though always on the wall. Now,
here it is, massive with crisp greens on the right, soft shrimp, squid and mussels
on the left. The coating on the greens here is puffier like a beer batter, the
cashews are crushed instead of whole and the shredded green mango was
unexpected altogether. I like all salads of this ilk, but always compare them
to Sripraphai's, which could be a mess, but is one I encountered first and
always prefer.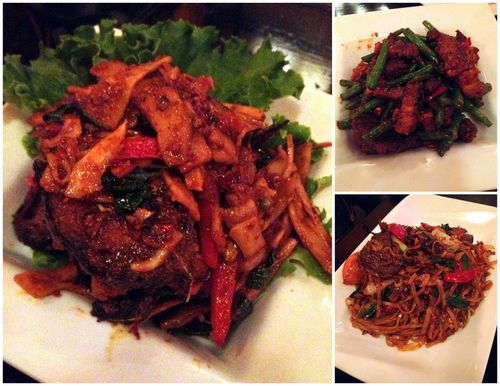 Portions are generous, and in this case the crispy
pork dominated the green beans. I think they just gave us all the remaining pork
bits in this rich pad prik khing because it was getting late. The table that
arrived after ours looked at our plate and gave us dirty looks (no hyperbole)
after being told they were out of pork belly.
I'm not convinced this was pad kee mao. I would've
sworn it was pad thai, but it was darker than the pad thai on others' plates
and there weren't any peanuts in it. More sweet than hot and with those skinny
rice noodles, it was the oddball of the evening.
Crunchy fried catfish rounds with Thai apple
eggplant and bamboo shoots, on the other hand, was the biggest hit. Bony and
crazy hot with lots of bitter krachai, it's not as accessible a dish as some of
the others. Whole fish preparations are easier to love, but the catfish hunks
have a snackable quality I enjoy.
In some ways Zabb Elee's existence is more welcome
because Queens is already rife with good Thai and the East Village isn't
(sadly, my new Clinton Hill Thai situation may be even worse than in Carroll
Gardens–and no, Pok Pok isn't in Carroll Gardens [or Red Hook]).
And it's highly unique. The number of papaya salads,
alone, is impressive, and with combinations I've never encountered elsewhere. See
my new entry about som tum kortmuar (green papaya, pork cracklings, Thai sausage,
eggplant, fried fish and noodles) on Real Cheap Eats.
The brightly flavored duck larb included varying textures
of the roughly chopped meat, itself, as well as crispy bits of skin that were
mixed in. They may not initially believe you if you say you want your food hot,
but they will oblige if you insist you can handle a four (out of five). A five
is probably brutal.
Chao Thai Too * 83-47 Dongan Ave., Elmhurst, NY
Zabb Elee * 75 Second Ave., New York, NY