The Sweet By and By
Bangkok has more than a few strange businesses-naming trends (I'll save Something Story, as in Fat Story, the bluntly ESL plus-size shop in the now-gone Suan Lum Night Bazaar, for another time). The most prominent is Something by Someone (Caffe Nero by Black Canyon Coffee, as pictured here in the background of The Pizza Company). I'm not sure if this has to do with the way the Thai language is translated to English or a desire to sound
upscale.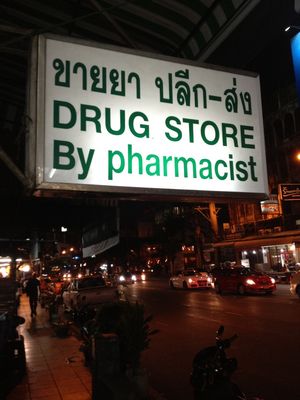 If you spend enough time trolling Sukhumvit's endless malls (a touristy strip that's starting to rival Singapore's Orchard Road) instead of doing whatever it is you're supposed to do in Bangkok you may learn an interesting thing or two.  (Like if you want to see The Dark Knight Rises, you'll first have to stand and watch a video about the king's life while the royal–not the national!– anthem plays. Also, the US may be the only country without assigned movie seating.)
Food-wise, Siam Paragon has Amici by Pomodoro, Another Hound by Greyhound Cafe, Coffee Beans by Dao, Ice Glace by Mr. Shake and L'Espace by Mandarin Oriental, Bangkok.
Terminal 21, the airport-themed shopping center that's probably bigger than some actual airports (with a harrowingly long escalator that I blame for making me anxious and  caused me to put a sample frosty taupe nail polish on my lips, thinking it was gloss) has an astonishing array of Something by Somebodies, though only two, the ones I've linked to, are food establishments.
Hers by Sopida
Stella by Jolie Robe
Yourburry By Aew
PAUSE BY 30 SEP
Jikkaroo by Hara
Chichi By One Bed Room
Squeeze By Tipco
Krit By VolumeX
Yamato By Yu-Raku-Cho
21 by aoom
OPA by Apinya
PETA BY BELDA
ZEMI-OH-TICK BY BON_BELLE
New Sky By Medicos
SUSRI CC BY SUSRI
Three Design By Prayong
Yentafo Krueng Songe By A.Mallika
BB Center By Zirtel
Bar Phone by Duet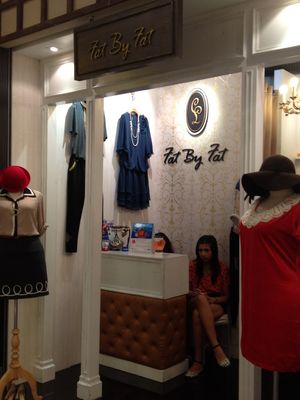 And the crowning glory: Fat by Fat!
Just around the corner from LadyPhat (which doesn't fit the By theme but is glorious, nonetheless).