St. Anselm


St. Anselm was the right answer to the
which-no-reservations-restaurant-with-typically-long-waits-should-I-attempt-on-a-reportedly-sleepy-holiday-weekend
question? Which isn't to say that it wasn't bustling on a Sunday or that
Metropolitan Avenue was bereft of hanger-outers. There was, however, room for
two at the bar at 7:30pm, and holding out for a table probably wouldn't have
been more than 30 minutes but I didn't want to risk it.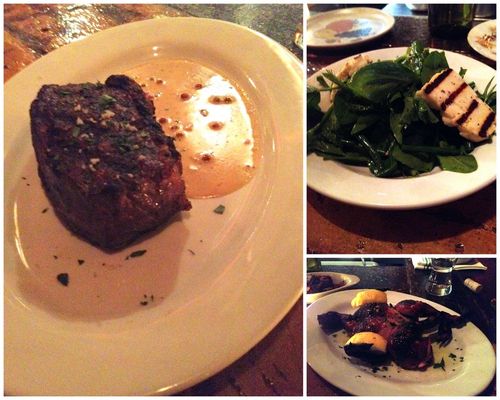 There was an endless procession of burrata, tomato
and basil salads being assembled in my line of vision. Too airy and blatantly summery,
the thick stalks of pea shoots, long beans and charred halloumi was more what I
was looking for.
I really would've been tempted by the rib-eye if I
hadn't just done a semi-splurge meal the night before (I still don't know if
you can rightly call a dating anniversary an anniversary even if it's been 13
years). Instead, the New York strip steak with pepper sauce sufficed. There was
plenty of beef and nicely charred, but next time I want something bone-in.
And the sweet tea brined chicken because even though
I can't stand the candied beverage, it lends just the right amount of subtle
sugariness to the meat and maybe even helps caramelize the skin (though I'm
certain it would brown and crisp up just fine using their combo
grilled/oven-roasted approach).
Our server made me nervous when she interjected,
"About the chicken…"
Me: panicking, bracing for horrible news.
Server: "It's whole."
Me, always concerned about over-ordering: "Oh,
so it's too much food for two?"
Server: "No, it comes with the head and feet
attached."
Oh, right, I knew that. Fedora, too, was serving birds
with little scrappy feet. Frankly, I don't mind beak-to-claw dining and gnawed
on the blackened cheeks when no one was looking. The above picture is doing it,
and the rest of the food, no favors, but this is what happens when you try to
be all free-spirited and live in the moment and force yourself to leave your
real camera at home.
A bunch of professionally grilled things (there was also
a crock of lobster mushrooms involved) and a bottle of Italian rosé (I was
pretending to go along with the Labor Day is the end of summer thing–how are
you liking this cool, refreshing fall weather?) were the perfect counterpoint
to more mundane burgers on a Weber and lukewarm beers (which I enjoyed the next
day).
St Anselm * 355 Metropolitan Ave., Brooklyn, NY