Lulu and Po

Homespun and tiny with intergenerational groups (making sure skeptical parents see the neighborhood's
charms?) breastfeeders, small plates, Vampire Weekend tempered by Marvin Gaye, no reservations, no credit cards, Lulu
and Po is pretty much a New Brooklyn stereotype, and a sweet place, nonetheless.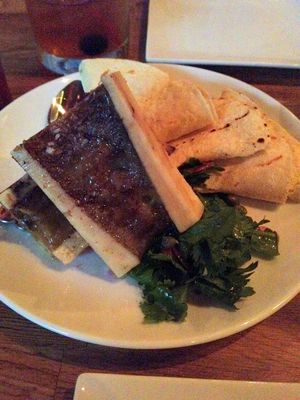 Maybe you've read about the bone marrow tacos? I
suspect more than few have since the vertically chopped bones with three soft
tortillas and a thatch of parsley-caper salad sat on nearly every table. They're
kind of a mess since tortillas don't absorb the fat like toasted bread does,
but I love the idea. And the accompanying house-made Sriracha was right on,
more tart, less sweet than the commercial version. I could totally see spicy
Yucatecan pickled red onions working with this too.
The wax beans in the wax and green bean dish had
been 86'd (I'm directly quoting from the chalkboard that listed that evening's
depleted items: a pork loin and said wax beans) which was ok. They were served
cold and tossed with  generous hunks of
feta and jalapenos for a little non-Mediterranean intrigue.
The lightly breaded and fried anchovies were like a
Spanish bar snack (I've never had this exact thing in Spain, I'm just saying they could fit in) meaty, not greasy in the least and perked up with a
Sriracha-spiked tartar sauce.
Smaller plates dominate, but the "iron" pressed
chicken, with its nicely crisped skin, is a medium plate heavy on brown tones and still more than
sharable. It made me remember the less purist, but slightly more
attention-grabbing sweet tea-brined chicken recently eaten at St. Anselm and
now I want to try brining a Thanksgiving turkey in sweet tea.
Despite the full house on an early Saturday evening,
the service was always pleasant, never rushed. Frankly, I was surprised to have
a dish comped as thanks for accommodating a weirdo seat that was in everyone's
way. That counts for something.
Lulu and Po will more or less be in my neighborhood,
ten blocks east on Myrtle, as of tomorrow. I probably won't rely on it as a
show-off if my parents ever come to visit because roomy seating and individual
entrees are more their thing (they might like sit-down Chinese-Spanish Sapolo,
however) but I would definitely give it another go.
Lulu and Po * 154 Carlton Ave., Brooklyn, NY