Eaten, Barely Blogged: Not In My Backyard
Recette As payback for picking me up a handful of Jason Wu for Target items in New Jersey on Superbowl Sunday, I vowed to treat to a friend to a fancy dinner (I owed her $150) but not like Per Se or Eleven Madison Park fancy. I don't really hear much about Recette, and hate to imply that the creative (and yeah, a little pricey) West Village restaurant isn't worth discussing in greater detail, but this was a case of eating, drinking, talking, hanging out without over-thinking everything on the plate, an approach to dining I've been embracing more lately. I did still take photos of the five-course tasting, however, so peek if you wish. For nearly each course we were given two different dishes, so the variety was great.

PINK GRAPEFRUIT MARGARITA, Hornitos Añejo, Fresh Pink Grapefruit, Lime Juice, Espelette/KUMQUAT OLD FASHIONED, Bulleit Bourbon, Poached Kumquats, Blueberry Bitters/Uni amuse
BEEF CARPACCIO, Burrata, Tomato Jam, Porcini Purée, Basil, Watercress/MARINATED ARCTIC CHAR, Oyster, Crunchy Salad, Bonito Broth, Bottarga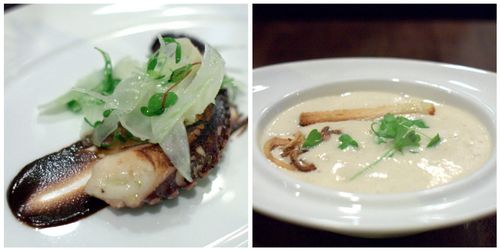 GRILLED PULPO, Black Garlic, Olive Oil, Lemon, Fennel/"ONION SOUP", Onion Espuma, Oxtail, Gruyere, Consommé
BLACK BASS, Potato Gnocchi, Pancetta, Roasted Salsify, Seafood Nage/ROASTED SCALLOPS, Artichokes, Thumbelina Carrots, Caviar Beurre Blanc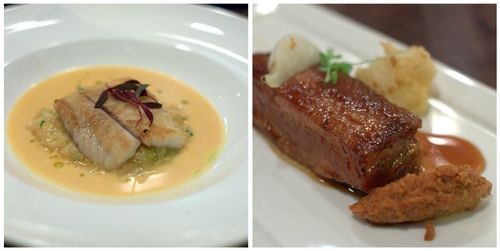 ROASTED FLUKE, Shellfish "Congee", Leeks, Sauce Bouillabaisse/BERKSHIRE PORK BELLY, Rock Shrimp, Turnips, Romesco, Sherry Caramel

a pre-dessert (the banana chocolate real dessert photo didn't turn out)/"SMORES", Graham Cracker Ice Cream, Toasted Marshmallow, "Hot" Chocolate Ganache
Ox Cart Tavern As an experiment, I traveled from my office to Ditmas Park during a Friday evening rush hour. 4/5 at Bowling Green to B/Q at Atlantic Ave. to Newkirk Ave. Forty-five minutes wasn't so bad considering it frequently takes me 40 minutes going four stops from Carroll Gardens (it certainly did this morning) even though  no one believes me. My potential new neighborhood livability test doesn't take dining into account, though, because Ditmas Park couldn't win on that count. There are like two young people bars (I investigated a third for old-timers and almost got my iPhone stolen by one of the many  middle-aged–truly middle-aged, not 40–alcoholic women) and four restaurants. But really, it's doubtful I'll go to Momofuku Milk Bar or whatever new thing opens this week anytime soon (I am interested in La Vara) but there is something comforting about knowing they're there just in case. No matter, we have a car and always go out of the neighborhood to eat and drink on weekends anyway, and would do so on weeknights if we had a garage and driveway to come back to, which we would in Ditmas Park. Ox Cart Tavern is the kind of place that has Sixpoint Sweet Action in cans, sloppy duck sliders, lots of small children on the early side and waits for tables as the night progresses. It's average, but the disproportionate ratio of potential diners to seats implies the neighborhood is restaurant-starved.
La Fusta Like I said, weekends aren't spend dining around Carroll Gardens. We wanted steak and to try St. Anselm, but Williamsburg on a Saturday night didn't seem wise (unless you're going someplace non-hyped like Taco Chulo where I went the previous Saturday and there was still a wait). Argentine parrillada is nothing like St. Anselm, I imagine, but you do get some offal and weird bits (no goat head and hearts, sadly) when you order the mixed grill. The skirt steak and Korean-cut ribs are good, but I genuinely love the creamy and chewy intestines sitting on top of the pile of meat and the mushy morcilla buried beneath (I get all the blood sausage in exchange for giving up the not-that-exciting-to-me chorizo that is more similar in flavor to a breakfast sausage) and not just to show off. The intestines are nearly like those rolled wafer cookies you find at Asian grocers filled with chocolate or pandan, but I probably don't want to know what makes-up the meaty interior stuffing–it's certainly not shortening and sugar. Previously on La Fusta.
Taco Chulo Hey, it's better than San Loco.