Acme

I want to say that I miss the old Acme because I ate there countless times over the years and am upset by the changing character of the East Village. Sure, I'll agree it's pretty sad state of affairs when punks are eating heritage pork and a junk food vegetarian joint can no longer stay in business, but I have no nostalgia for the Cajun Acme, where I ate maybe once in the late '90s. Great Jones Cafe, which is also old Acme in spirit, is still right over there, so there's that. In fact, I stopped in for a beer before going to dinner.
The story of a unmemorable restaurant stealthily reborn as a scene banking on Nordic cachet for a crowd who largely doesn't care about hay-smoking is somehow more interesting than the food, itself. Despite chef Mads Reflund's Noma history, the cuisine at Acme isn't particularly Danish or unconventional. The plating isn't the prettiest either– I had expected something a little more controlled and refined rustic. On the other hand, the ease of getting a table and pleasant enough service was better than I had anticipated.

Sometimes I'll order something with an ingredient that I hate just to keep from getting soft and coddled. The gin-based Graffiti Green had to be tried because green is my favorite color yet green peppers are kind of foul (I'm surprised they resisted the urge to add It vegetable, kale, or more Nordically appropriate sorrel). The cocktail definitely had that raw, earthy bite but was also sweetened-up with agave and made more familiar with basil and lime. The beauty of the little coupe glass drinks is that if one isn't to your liking, it won't last for long.
The raw chopped filling inside the endive leaves didn't taste specifically Chinese or Thai or Malay, just vaguely Asian. I'm not sure if it was simply the shrimp itself or if there was shrimp paste at work because there was a mild dirty, funky undertone like you get from belacan.  Something fermented (not rotten) was at work, though now I'm wondering because no other review I've seen has noted this dimension.
The black heirloom carrots glossed with a barely discernible slice of lardo and flavored so lightly by pine that you wouldn't notice unless you'd studied the menu description (the boisterous atmosphere is more suited for parties than parsing—it's hard to gauge how seriously you should be taking the food) were more in line with the style of produce-prominent food I'd expected. Super simple with caramelized vegetable sweetness enhanced by fat, the result was pristine and rich. Four stubs (more like three-and-a-half really—compare these to Time Out's glamour shot) were not enough. Maybe Nomad's $22 carrot with duck skin should make me pause and think instead of scoff.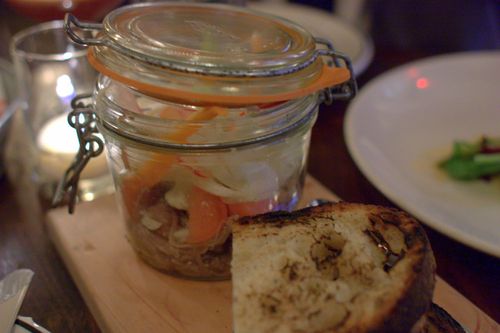 The duck in a jar with pickled vegetables was just that, and felt like something you could get at any New Brooklyn restaurant.
To further exaggerate my few eating issues with green items, I'm also grossed out by lettuce that's in soups or cooked. Bon Appetit recently recommended roasting heads of romaine along with chicken, and I just wasn't sold. When it comes down to it, the lettuce is rugged enough to stand up to the heat and char, and even an oily fish like mackerel. The tiny pink flower buds, nearly tossed, not strategically placed with tweezers, was the one homage to fine dining. The mostly starchless mains, if you can call them that, are geared toward sharing and are well-proportioned for two.
The chicken and eggs sounded boring, but wasn't. Moist is a gross word and I don't like juicy to describe meat either…so the chicken was the opposite of everything boneless, skinless chicken breast should be. The last time I encountered chicken so slick was the dramatic salt-baked version during a mega-meal at Blue Hill at Stone Barns. Well, and plus an oozy yolk and small tender potatoes practically mashed in their red skins and fried, this was too hearty to be fashion crowd food. (Christian Siriano was the only face I recognized in the fray—and I have a hard time picturing a clay pot of chicken being described as "fierce.")
Or the oaty, soupy rye bread porridge that I could totally see a British person describing at a "pud," which is kind of the opposite of fierce. The dessert is malty from Guinness , hot and cold, and topped with chocolate foam and salted caramel ice cream.
Acme * 9 Great Jones St., New York, NY