The Toucan and The Lion

Last week I heard a few peeps about The Toucan and the Lion on Twitter and message boards, then I noticed a few blog posts based on an invite from the new East Village restaurant. Scotch eggs? Duck confit mofongo? I could get behind that. So, I went on my own dime…and I think, volition? That's the thing, was it really my own idea or was I influenced in online ways that I like to believe I'm immune to?
Either way, the food and cocktails were overwhelmingly winsome and  that was mostly due to playing to some of my favorites ingredients like goat, fried pickles, taro, and  kaffir lime. For the most part, the flavors were there, though now looking at my photos I can see there is a peculiar swampy palette (not palate, thankfully) at work, lots murky greens and hits of yellow.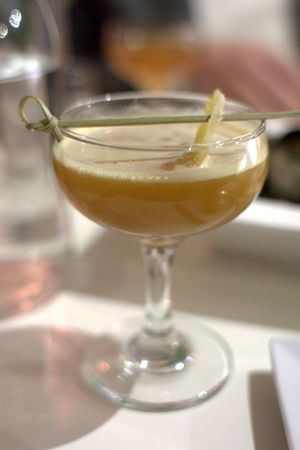 The Lion matches ginger and kaffir lime with rum and a hit of Sriracha that adds a subtle creeping spice. This and a few fried pickles (see below) would be a fun duo to sample at the bar, if I did that sort of spartan thing (I always over order because I want to try too much in one sitting).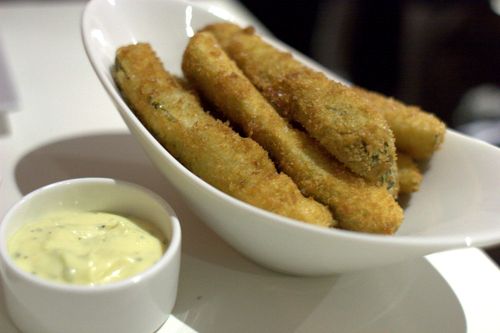 I didn't want to order two fried things with kaffir lime aioli so I opted for the whiskey sour pickles instead of the Scotch egg. Tart and crunchy, tempered by the perfumed mayonnaise, the breaded spears were a great snack, but possibly too much for two diners. A little pickle goes a long way (I was imagining less intense coins). My dining companion didn't agree with me and thought the portion was fine, so who knows.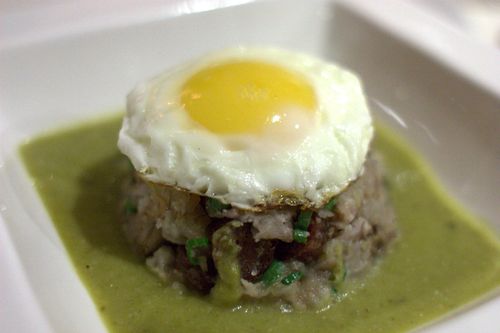 Even though there was a lot going on in many of the dishes, the diverse use of tubers caught my attention. I love taro and thought it made a perfect substitute for plantain in an Asian-inflected mofongo topped with a perfect oozy-yolked egg.  I expected the duck confit to anchor the dish, but it was the sweet, garlickly slices of Chinese sausage that pulled everything together. Why not add a mild salsa verde, too? This was very good, and while dense (though lighter than a traditional rendition) I could've easily eaten this, no sharing.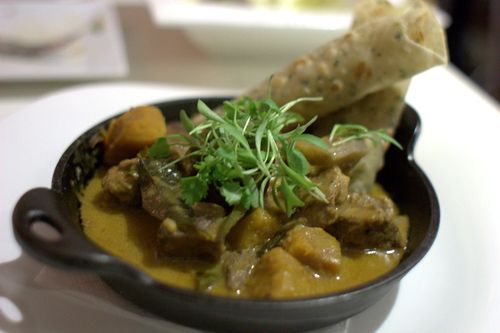 The goat pot pie was sweetish and spice-rich as massaman curries are, and also made use of non-traditional starches: cubes of sweet and purple potatoes to offset the hunks of tender meat. The roti–this is not a pastry-topped dish, despite the name–ended up getting a little stiff, but I appreciated the flaky flatbread's presence.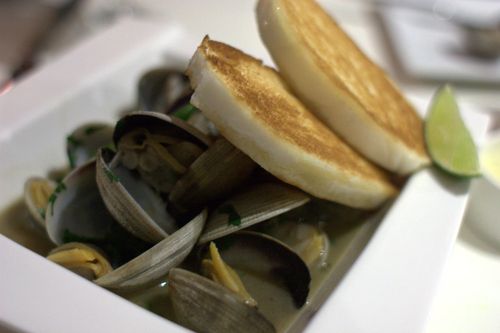 The clams just tasted like clams. Perhaps the flavor was simply more subtle compared to the stronger dishes. I felt it was lacking a distinct element, though, especially since "drunken" was in the description and I take that to mean chile heat . I will say that the bao buns, similar to the roti in usage, was a nice touch.
The Toucan and The Lion * 342 E. Sixth St., New York, NY