You wouldn't think that after twelve Valentine's Days with the same person you could be surprised (no, I'm not talking about diamond rings embedded in flan) and yet I was after discovering that I'd made reservations for Empellón Cocina on February 13 while the boyfriend had one for the following night. The surprising aspect is that he doesn't really read blogs (so I can really say anything I'd like about him and he'd never know) or food media, so I didn't expect him to be aware of Empellón Cocina's existence or that I wanted to go there (he also had a back-up reservation at Nougatine, which is odd because we just had a Valentine's-Day dinner at Jean Georges a few years ago). We consolidated and kept my Monday night appointment out of fear of being locked into a themed tasting menu on the holiday proper. And besides, Valentine's Day is for Dallas BBQ–there's nothing more romantic than a Blue Hawaii with an extra shot of rum, right?
They do that small plates and snacks (a Masa section in this case) thing where it's hard to determine portion sizes even when using pricing as a gauge because there's variance in each category. We way over-ordered, partially our own gluttonous doing and partially due to the pushing of an extra dish by our server. And then desserts unexpectedly arrived free (not a complaint). Even when full, how do you say no to extras?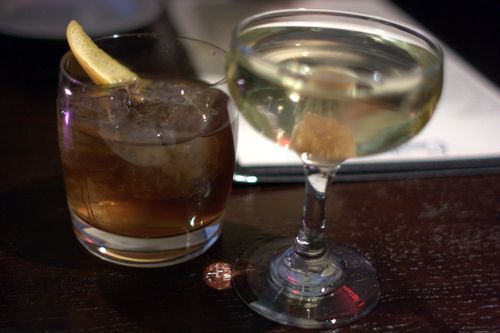 I don't see a cocktail menu online, strangely, just the wine and mezcal lists, so I can't recall every detail of the three I tried (yes, three drinks is probably why I can't remember–I often choose an after-dinner cocktail in lieu of a dessert). There was a play on a French 75 (pictured, right) with the dissolving brown sugar cube, as well as twist on a Manhattan. Smokiness was a theme.
Smoked cashew and pasilla Oaxaquena salsas with flaky, deliciously oily masa crisps was the right choice of opener. And it was the creamy, nut-based sauce that I could've kept dipping into all night. I may be the only person alive who doesn't care about guacamole, and why diners are so obsessed with its tableside preparation and disproportionate price tag (it's avocados and limes). I realize that's not the drill here, but I still didn't want it.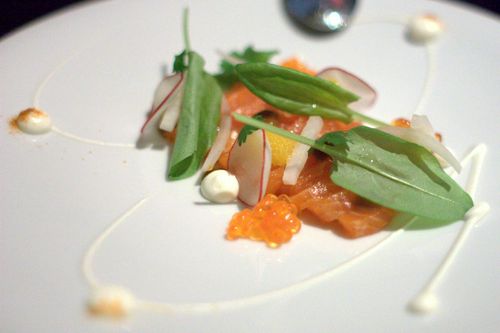 I'll admit that I chose the mezcal-cured ocean trout with cream cheese, roe, and sal de gusano because of the accompaniments, not the fish. Mexicans (or at least Chilangos) are crazy for  cream cheese in their sushi, so I wanted to see how the dairy would be incorporated here. And I'll always try an item with tangy sal de gusano, the Oaxacan powdered worm condiment. Both were used to quiet effect here; the raw fish was the star.
Ok, the queso is dead opposite of the above pristine sashimi, and cravable as you'd expect a cast-iron pan of lobster and melted Spanish cheese to be. Tomate frito and kol, a Mayan masa-based sauce, garnish the gooey dip. I'm still confused if the soft tortillas that come with this are corn or flour or a hybrid. Flour would be keeping with the spirit of queso, being Tex-Mex.
Ribbons of squid were enhanced with a chorizo mayonnaise and one of those zillion-ingredient black moles that I'm happy to leave to chefs, after a few bouts, myself.
The lamb sweetbreads with loganiza was one of the standouts. Rich and earthy and enhanced by the sweet-spicy salsa papanteca, using piloncillo, pepitas, the meatiness balanced some of the lighter seafood dishes.
They also do that thing, which generally, I'm fine with, where dishes arrive willy-nilly as they're cooked. I'd forgotten about the pork ribs with white beans and masa balls in a green mole by the time it arrived last. If anything, the springy dumplings caught my attention more than the lengths of fresh bacon.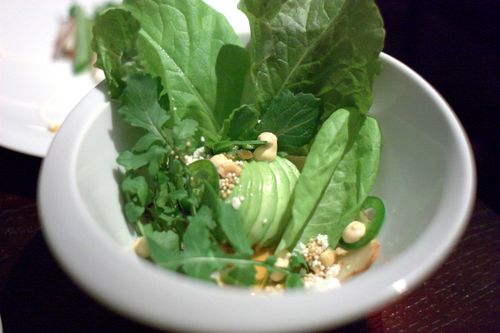 After already picking out six dishes for two,  we were strongly recommended to try the avocado with spicy grains, sunchokes, and hazelnut dressing too. Ok, fine, we hadn't explored the Vegetables section; avocado was determined to make an appearance no matter what. I don't remember a thing about this; the poor riot of greens' subtlety was completely lost in the shuffle.
I'm mildly embarrassed to admit that I don't recall the details of this off-menu dessert beyond the use of green apples, mostly because the strong flavors of the one below eclipsed it and I was hitting palate fatigue.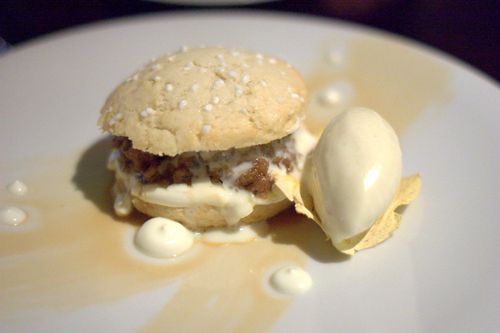 I was not imagining sweet plantain shortcakes with cajeta and crema to resemble a miniature burger, or to like this as much as I did. The nearly-smoky molasses quality of the sweet plantain filling made me think of Malaysian desserts, rich with palm sugar. I'm guessing that was the result of piloncillo and goat's milk caramel.
Upon exiting, I was face-to-face with another sesame seed bun, much larger in scale.
Empellón Cocina * 105 First Ave., New York, NY