China Poblano

Just as you can't really assess a restaurant's true nature based on a Christmas buffet, I can't say that China Poblano's New Year's Eve tasting menu is necessarily representative of a typical meal in Jose Andres' more casual casino restaurant. Many of the dishes served that evening aren't on the regular menu. For a traditionally price-gouging evening (if I were crazy, senseless rich I would've done the $1,300 Times Square T.G.I. Friday's event) I thought the two $45 (nine courses) and $65 (ten courses with slightly more luxurious ingredients) tasting menus were fairly priced. I ended up trying the latter.
My only issue was that dishes came out rapid-fire so that at any given moment, there were four sitting on the table at once. More like tapas than a tidy procession, (combined with a propensity for slow eating) at least half ended up being cold by the time we got around to eating them. I don't know how they would've possibly executed the four-cocktail drink pairing also being offered. So, I can't say if my favorite dishes were just the ones I happened to sample at their optimal temperature. The sense was that the staff was trying to wrap everything up by midnight.
Us, we had no desire to be on the strip to ring in 2012 as our eyeballs had already maxed out on stumbling packs of ladies squeezed into barely-butt-covering sausage casing dresses. It's one thing to be surrounded by small packs in casinos, The Cosmopolitan in particular (those ubiquitous kooky TV ads must work–or maybe it was the giant stiletto sculpture where I had to force myself not to take pictures of the girls taking pictures of themselves sitting inside the oversized shoe. Besides, Flickr is fertile ground for such shots already), but packed in among thousands felt apocalyptic.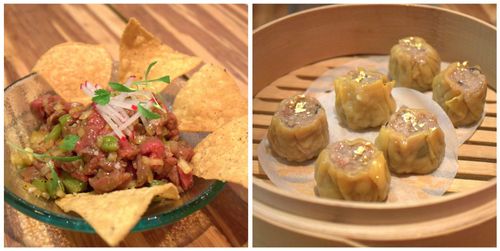 Carne Apache tenderloin crudo/ chile pasilla de Oaxaca/pickled cactus and  Traditional Sui Mai shrimp/pork/ water chestnuts/mushrooms/peanuts. The chile-spiked beef tartare was a hit, but the pork and shrimp dumplings dusted with gold leaf soon distracted. It wasn't a battle, but the tartare prevailed. The more successful–or more exciting, rather–dishes almost always were the least conventional.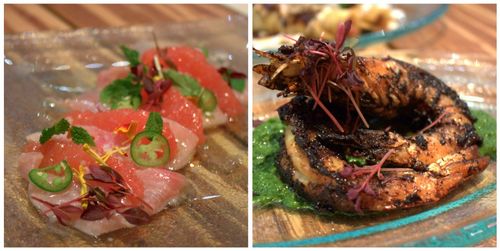 Ceviche de Kampachi grapefruit/ mint/serrano pepper and Hawaiian Blue Prawns with Salsa Negra prawns/chipotle chile/piloncillo/garlic. The ceviche and sweet-and-smoky prawns that almost seemed Indian, were the two favorites of the evening. Maybe I'm just responding to the micro-herbs and flower petals as haute cuisine signifiers. The green puree is a mystery; the texture was like saag but not spinach, and didn't distinctly taste of cilantro, mint, or parsley either. Neither dish was overtly Chinese nor Mexican.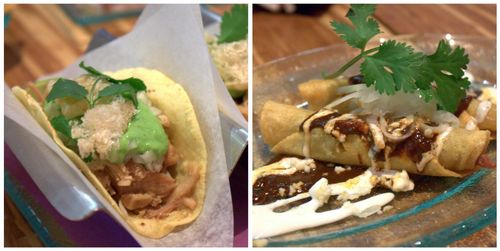 Carnitas Taco braised baby pig/pork rinds/ spicy salsa verde cruda and Flautas de Pato slow braised duck/mole Mihateco. The  flautas and tacos got ignored for the competing seafood above, so they weren't at their prime. (Also, I may have ruined my appetite by making a late lunch in the hotel room with carnitas and corn tortillas purchased at Mariana's Supermarket. NYC desperately needs a real suburban-style Latino grocery store, like a Hispanic Hong Kong Supermarket, not a glorified bodega.)
Dragon's Nest pan fried egg noodles/whole live lobster/shiitake mushrooms/ carrot butterflies
Twenty-Vegetable Fried Rice fresh vegetables/fried rice. The lobster (half, for what it's worth) dish was very Cantonese with the crisp-bottomed egg noodles and a light brothy soy-based sauce. We barely made it past the seafood component and couldn't even think of eating the fried rice (somehow the carrot butterflies ended up here) after a few bites of noodles. We actually brought the rice back (as well as Lotus of Siam beef jerky, jackfruit curry, and chile basil duck, and those carnitas and corn tortillas from earlier–we hate waste and love leftovers) in our luggage to NYC because there was nothing post-holidays to eat in the house. I didn't have the wherewithal to count the vegetables, though the baby turnip (more like a zygote) no bigger than a pinkie toe, was adorable.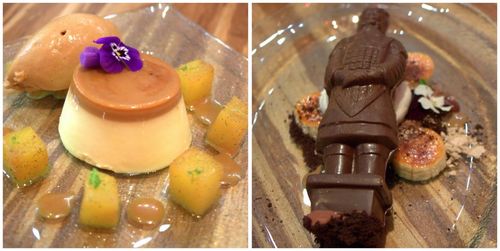 Cajeta Flan goat's milk caramel/pineapple and Chocolate Terracotta Warrior caramelized banana/sesame/ginger. I don't think we were supposed to get both desserts, and we certainly couldn't finish them (though I appreciated the gesture, prompted after we couldn't decide between the two). I preferred the flan simply because caramel feels lighter than chocolate. The chocolate warrior  was very impressive even if the figurine (filled with chocolate mousse, by the way) was probably not supposed to be lying down on the job.
When I first heard of the Salt Air Margarita, I imagined a glass entirely filled with foam like a Czech pilsner served mliko-style. No, the "air" is simply a layer of salty fluff atop the cocktail, that works perfectly to balance the lime juice's sourness–unless you're one of those freaks who likes their margaritas frozen with no salt rim.  Normally, I would branch out and try a different style drink for round two, but I rarely encounter sal de gusano, the chile/salt/powdered worm condiment drank with mezcal in Oaxaca, in the US. Why not use it as a margarita rim?
China Poblano is probably best experienced in small bursts. If I were back in Vegas I would likely stop in for a duck tongue and lychee taco and pork buns, two enticing things I didn't have a chance to try.
China Poblano * The Cosmopolitan, 3708 Las Vegas Blvd. S., Las Vegas, NV