VIP@ Thai Cuisine

The other night, I found a paper menu for something called VIP@ Thai Cuisine in the foyer. What the what? I immediately recognized its peculiar brand of menu chaos–and then I decided to place an order. Apparently, Em Thai has rebranded as VIP@ Thai Cuisine. The thing about VIP@ Thai Cuisine/Em Thai is that there are a handful of dishes on the menu that make them the only Thai restaurant I'll order from in the neighborhood, but 90% of the other offerings (the already voluminous menu grew with the re-do) are middling or just plain weird.
I expect them to abide the pad thai, spring roll, green curry tastes of Carroll Gardens, but who asked for a new rambling dessert section? Key lime pie, Living on the Island (coconut jelly in a shell), something called Golden Palaces with no description, and Ruby Coco, i.e. tab tim krob (the one Thai dessert I've ever learned to make) are just a few new choices.
The handful of acceptable, more or less "real" dishes–steamed fish, a spicy pork thing, seafood salad, minced pork with chile and basil topped with a fried egg, grilled chicken with papaya salad–used to be relegated to a tiny section where they warned about heat levels. That "Authentic Specialty" section has grown to 26 items and now includes a panang curry with avocado (even though tempura'd, the vegetal-fruit is great, I'm grossed out by its presence in a hot stewy concoction), chicken breast in a walnut sauce with jade (spinach?) noodles, pork chop on a green salad, and udon all over the place. Oh, and they removed the fried chicken wing salad–I liked that oddball!
I went wild and ordered the rock & roll duck when I really wanted to order the shrimp cheesy roll, a.k.a. " Shrimp, celery, scallions, spinach and Philadelphia cheese wrapped in a rice paper," but chickened out.  Actually it's a roti, not rice paper, and akin to peking duck pancake sandwich with one piece of meat, one scallion, one cucumber spear, and shredded lettuce as filler, er, and  plopped atop a bed of baby spinach. It's heftier than a $1 Flushing peking duck sandwich because of the roti, but more Brooklyn-priced at $6.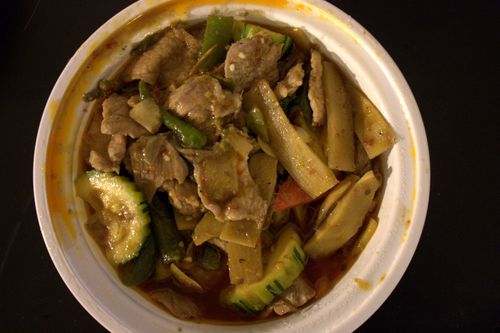 Pa Cha Pork Red Hot is genuinely hot, though I always make a polite request in my Seamless Web order to make everything extra spicy because you can't take too many precautions around here.  The krachai, pickled peppercorns, and torn lime leaves, add an extra dimension and earthiness rarely found in the overly sweet local Thai food.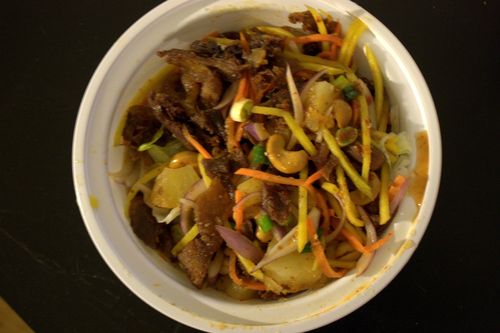 Duck salad (yes, double duck) is maybe fried a little hard, though it kind of reproduces the bony catfish chunks sometimes found in Thai curries. The pineapple and shredded mango are naturally sweet and balanced by the requested heat. Cashews never hurt.
VIP@ Thai Cuisine * 278 Smith St., Brooklyn, NY