Kin Shop

Harold Dieterle is one of those chefs who cooks outside his ethnicity—and why not? He does it well. Haven't the non-French been doing just that for decades?
I'm happy for any ambitious Thai addition to Manhattan (and am still steamed over that Rhong Tiam/OBAO bait-and-switch near my office). Recently, I revisited Lotus of Siam, and while I didn't think the food was dismal as might be expected long after the departure of the original owner, for those prices I'd much rather eat at Kin Shop.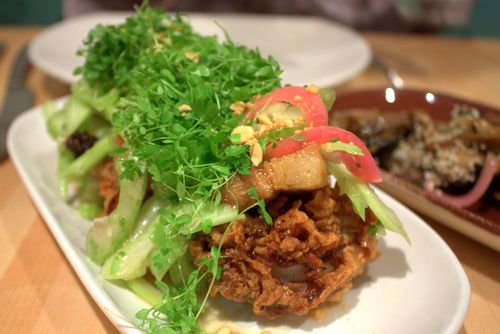 Double-meaty gooey fried oysters and thick slices of pork belly are lent tartness and texture with the addition of pickled onions and celery. The chile-lime dressing could've been more pungent, but that's just my preference. They do provide condiments Thai-style, so you can pile on the chile flakes to delicious numbness. Then again, I might have a chile overdosing problem. After spooning a huge glob of super shrimpy, pure fire nam prik pao that I bought at Sripraphai last night (and was warned away from) on a baked sweet potato, I have lost half the taste in my mouth.
Vegetable sides don't play a major role on most traditional Thai menus, though maybe Americans feel like they need them. Grilled eggplant, smoky and simply dressed with mint and fish sauce, fills that void here. I just now realized that what I thought were seeds—the little white dots scattered on top—are actually pearls of rice
Goat, braised to tenderness, makes a light massaman curry despite the level of coconut milk. And the tiny cubes of purple yam are not only more delicate than the usual potato chunks, but add punches of color to the creamier than usual stew. Normally, massaman is lower on my list of to-order curries. Not here. Photos I've seen online show a heftier piece of meat, which may or may not be due to lunch vs. dinner portioning. This was a midday meal.
Kin Shop * 469 Sixth Ave., New York, NY