Chain Links: Hitting the BRIC Wall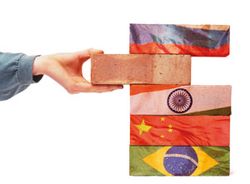 Chains wanting to expand into foreign markets are having a hard time finding executives with the know-how to localize menus and navigate business issues abroad. Sometimes you have to add squid and corn to a pizza or sell beer with your burgers.
There is a sandwich chain called Spicy Pickle, and it will be arriving in Qatar next year. I don't know what makes ham, cheddar, honey mustard, apple, spinach, and tomato, on grilled marble rye Basque, and don't expect Doha residents to be any less confused.
I vowed never to speak of Pei Wei again, after last year's sham of a contest where they chose a finalist who couldn't use palate properly. But if you find yourself in Mexico City in the near future, craving crab rangoon, your needs will be met.
Did you know there was a Union Square Cafe in Tokyo? I wouldn't be surprised if there were stealth replicas of other notable restaurants stashed around Japan either. I be that their La Grenouille wouldn't trigger Paris Syndrome. (I know many French stereotypes are exaggerated, but even so, I havea  million cities I'd rather visit first–I'm currently considering São Paulo, Lima, Istanbul, Los Angeles, and Reykjavik for a post-Thanksgiving jaunt, though I'll probably end up in Montreal like I often do that time of year.)
It seems that everyone wants to break into China, India, and the Middle East, but maybe chains should consider Russia and Colombia too. There was a time, not so long ago, when I did not know what BRIC stood for. Now I'm a better person.
Chili's opened in São Paulo and are serving five different caipirinhas and various dishes showcasing picahna, a popular cut of meat that's equivalent to top sirloin.
McDonald's in Brazil has the CBO, a.k.a. chicken, bacon, onion sandwich that originated in Europe. Brazil has everything.