Chain Links: The Gambler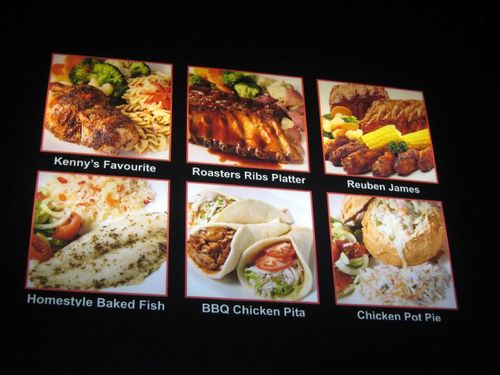 The New York Times is pokier with its fall dining coverage than other outlets, but it contains some good details, particularly in the article on foreign imports, a bona fide trend. I'd forgotten about insanely opulent Café Pushkin from Moscow–so over the top it's really a theme restaurant–and knew nothing about Naples' Fratelli la Bufala. And before my time (in the city, not living) there were foreign chains that bombed: "Lenôtre from Paris in the 1970s, the art-deco Altri Tempi from Italy in the 1980s, and the stylish Eldorado Petit from Barcelona in the 1990s." The latter served Catalonian food, a novelty at the time. Now we're looking to Asturias.
Kenny Rogers Roasters is a prime example of the US fast food brands that fizzled out here, but thrive abroad. I'm still baffled by the dish called Reuben James (above) I spied on the menu in Singapore.
Quebec is a testing ground for Canadian chains looking to expand—regionally and internationally. Yeh! Yogourt will be in Boston and Albany soon, and Liquid Nutrition, La Popessa, Sac Wich and Pasta Tutti Giorni may all follow suit.
Quiznos just opened its first location in India and is delving into localization. Aloo Corn Spinach Tikki Sub, Lamb Seekh Sub and the Chicken or Veg Manchurian Subs are just a few additions for Hyderabad.
Panda Express just opened its first Mexican branch.
There is a restaurant in the Bahamas called Bamboo Shack, and it may be franchised in the US.